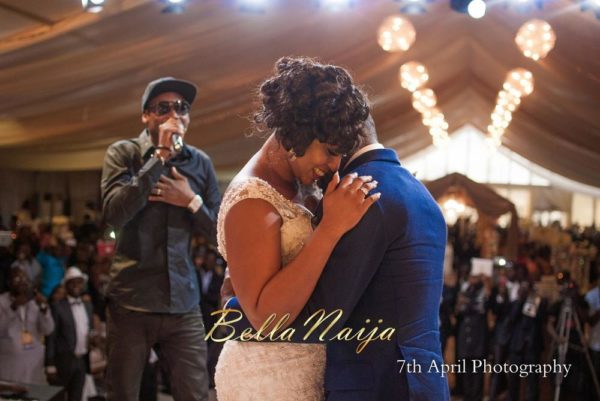 Onyeka and Kelechi wed this past October in the Garden City – Port Harcourt in Rivers State. Their weddings were equal parts fun and festive all the way! The couple met through a mutual friend, and spoke over the phone for a year before they met in person – so they got to know each other thoroughly before taking the leap from friendship to partners.
7th April Photography beautifully captured their fun sports themed pre wedding shoot and beautiful wedding – see their funny and charming love story below!
How We Met
From Kelechi, the groom
I met Onyeka through a friend Sonia in 2009. One day I was just scrolling through her phone and I saw Onyeka's picture and I said "I'd like to see this your friend", so we exchanged numbers after I called her on Sonia's phone. After that first phone meeting, I spoke with Onyeka over the phone for over one year, though we never saw each other. We then met in person when she came to Port Harcourt for her NYSC.
The Proposal
It was in April 2012 – she had been away to Calabar. The day she came back we had a serious quarrel in my parlour. That night I could barely sleep. I woke up the next morning and I just knew I wanted to be with her for the rest of our lives. I was convinced that she is my wife. In a relationship, knowing that you're not perfect, she is someone that tolerates and that's what is called marriage.
When I gave her the ring, she didn't say anything after some about 3 minutes I said "ah, why are you not saying anything?" I didn't know she had been holding tears in, so as she wanted to say something, she broke down in tears, so I held her, as she softly said Yes over and over again.
***
Flavour ushered the couple in on both their wedding days – their traditional wedding was rich in culture and splendor. While on the white wedding day, Kelechi happily sang along to Ada Ada to his new blushing bride Onyeka – who wore a beaded off shoulder ivory dress, while he looked dapper in his blue suit. 2Face serenaded the lovebirds during their first dance as husband and wife, while they kissed like no one was watching! For the couple's toast, they did something different – the gracious pair got off the stage and clinked and cheered with their guests individually, thanking them for coming, as friends and family hugged and offered good wishes.
BellaNaija Weddings wishes the best for the couple in love, life and marriage.
***
~ All Photography: 7th April Photography
Pre Wedding Photos
White Wedding
"Ada Ada!"
Watch the traditional wedding video captured by Eve 27 Films – it was beyond touching.
You might see some familiar faces *wink* and of course, the newlyweds in their moments of joy…
Traditional Wedding
Photography: 7th April Photography – www.7thapril.com | 07032110022 | photos (at) 7thapril.com | Instagram: @7thaprilphotography

Videography: Eko for Eve 24 Films – 08038880485
Wedding Details
Wedding Dates: Traditional Wedding – 12 October 2013 | White Wedding – 19 October 2013
Event Planning: Gleamz World of Events – www.gleamzworldofevents.com | 08036780002
Wedding Cake: Snowflakes – 08032724948
Cupcakes: Rutines Delight – 08033417074
Catering: Kellen Treaties – 08037711200
Decoration: Blue Velvet Marquee – 08033576108
__________________________________________________________________________________
We love weddings as much as you do – get in touch for inquiries, inspiration & more!
E-mail: weddings (at) bellanaija.com | E-mail for #AsoEbiBella: asoebibella (at) gmail.com