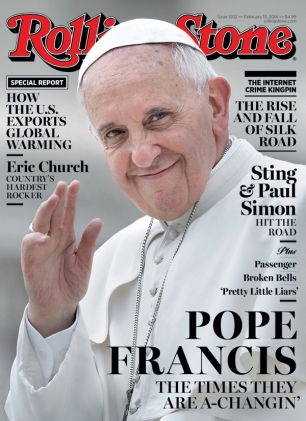 Who knew the pope could be so cool?
Pope Francis, who many have described as the Best Pope in recent times, is on the cover of the February 2014 issue of Rolling Stone Magazine.
This comes a few weeks after he was on the cover of TIME Magazine's December 2013 issue for being the Person of the Year. (click here to read).
As most of us know, Rolling Stone cover stars are mostly rock superstars and actors, so it is somewhat a great fete for the Pope.
The Times They A-Changin' – reads the headline for his article and we can't agree more.
It's the 77 year old icon's status as a religious and cultural icon, who has not only able to mix modesty, humanness and likeability but also has helped galvanize the Catholic faith, which is the focus of Mark Binelli's profile.