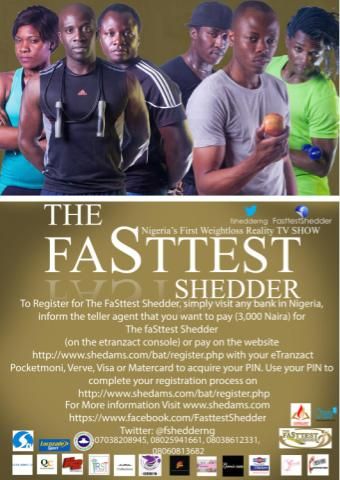 Are you a fitness buff? Do you want to get in the game of weightloss? Then this competition is for you.
The FaSttest Shedder is an all new Reality TV show developed by Seyi Olusore to enlighten Nigerians about the benefits of incorporating fitness and healthy eating habits in their daily lives with special attention to individuals who want to shed more kilos.
Seyi Olusore, MD/CEO of Shedams Fitness, asserts, "This is the first weight-loss reality TV show in Nigeria and our goal is to ensure that we promote physical fitness as an integral part of lifestyles in Nigeria. We are excited about this because the value proposition is strong."
They are holding auditions/screenings to select 10 contestants that will move into "The FaSttest Shedder House". The 3 Judges will include Maje Ayida, Tayo Badejo, Sunny Eresanya – who will carry out the screening process that will involve different physical exercises, medical checks and a required BMI to determine the ability of the individuals to survive the three months challenge. The 10 contestants will be given daily tasks which will include cooking competitions, exercise routines, trips to exotic relaxation spots, and other endurance tasks to test the strength of their determination to do without weight gaining items like chocolates, cakes and candies.
Specially selected fitness Trainers (Seyi Olusore, Steven Ezute, and Sanni Imonikhe) will guide the contestants through the three months program. After the initial 21 days, all 10 housemates will be up for eviction. Subsequently, one housemate will be evicted each week. The housemate to be evicted is the one whose weight loss is the lowest.
At the end of the 90 days, The FaSttest Shedder gets 1 million Naira plus 1 year free gym membership, whilst the 1st runner-up gets 500, 000 Naira plus 6 months free gym membership and the 2nd runner-up gets a Wardrobe change by RhemieRoses plus 3 months free gym membership.
Registration is ongoing and ends on Friday 31st January 2014.
To be an eligible contestant,
1. Walk into any bank in Nigeria with the sum of N3,000 (Inform the teller agent that you want to pay for "The FaSttest Shedder" on the etranzact console) OR pay via your ATM cards(eTranzact Pocketmoni,Visa,Verve,Mastercard)
2. Complete your registration via: www.shedams.com/bat/register.php
For more information visit: www.shedams.com/index-6.html | Like their page on Facebook: www.facebook.com/fasttestshedder | Follow them on Twitter: @fshedderng | Call 07038208945 or 08035612331
The faSttest Shedder is proudly supported by RCCG, LivingLight Church, CoolFm, WazobiaFm, Nigeria Info Fm, HebronFm, KogaTv, Charis Tv, RhemieRoses, TedaDesigns, LaFilles Collections, Les Souvenirs, LucozadeSport, Beloxxi Biscuits, Ipanu, myEZBeds, RST Clinics, Grazelle, QuoteConcepts, Faddfitness, NaijaAerobics, EdenLifestyle, Rogana Interiors, Essien Ogunbiyi LegalPractitioners, TrendySturvs and WalkthruWalls Media.