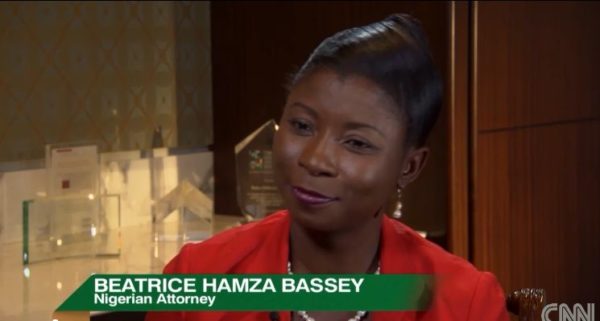 If you think you CAN'T… Think AGAIN!
This story of Beatrice Hamza Bassey on CNN's African Voices is a great way to kick off the week and the month. She went to University of Maiduguri (so you can't use schooling in Nigeria as an excuse not to chase your dreams!). She moved on to get her Masters degree from Harvard Law School where she excelled and was noticed by one of the most prestigious law firms in the US – Hughes Hubbard & Reed.
Today, she is a partner… the FIRST African partner at the firm. She speaks to CNN's Zain Asher, about her childhood, her ambition to become a lawyer and how she achieved her goal.
According to her, "I've always wanted to be a lawyer and one of my major reasons was because I wanted to be able to speak against gender inequalities which is predominant in the Northern part of Nigeria where I grew up. Encouraging basic and higher education for women is also very important because this will bring about self-sustenance and reduce the poverty level in the country".
She was listed among the Forbes Africa Magazine's top ten Africans in New York City in 2012 and New York Super Lawyers, 2012 Top Women Attorneys in the New York Metro Area. She is also among the Empowered Newswire's Nigeria's Top 50 Award for the Most Outstanding Nigerian Lawyer in Diaspora, in October 2010, amongst other recognition.
Watch this super inspiring video on African Voices and you won't regret it.
Part I

Part II

Part III