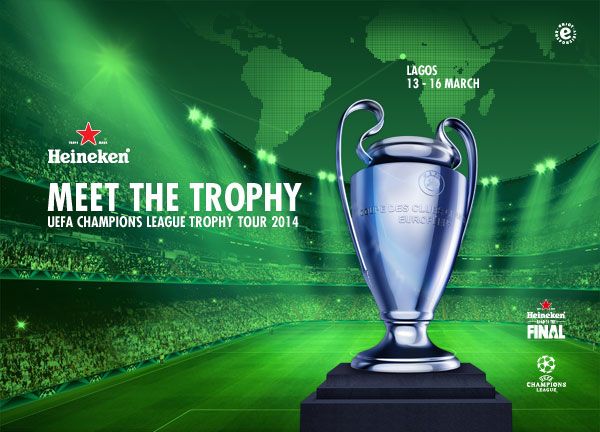 Ever wondered what seeing the UEFA Champions League trophy would be like? Well wonder no more!
As the UEFA Champions League 2013/2014 season hits the knockout phase, Heineken will be giving Nigerian football fans the opportunity to feel and experience the Trophy! It will be in Nigeria from Thursday 13th to Sunday 16th March 2014, with the brand ambassador, ex international football star and coach, Ruud Gullit.
This rare opportunity isn't only limited to Nigeria, it will also take place in Argentina and Vietnam. In order to make the event memorable, various events and activities have been lined up by the brand to give consumers, trade partners as well as the media first hand contact with the trophy which is making its tour of Nigeria for the second time after it did so in 2009.
In a statement, Walter Drenth, Marketing Director Nigerian Breweries Plc, said "the Champions league trophy tour is an activity unique to Heineken®. No other brand is capable of holding the trophy tour outside of Europe."
Want to see the Trophy? You can win a chance as well as other great prizes by texting "TrophyTour", Name, Age, and State to 20388 to participate in the Heineken UEFA Champions League Quiz (SMS Game). You can also get to meet Ruud Gullit, Christian Karembu and other Football legends.
Date: Thursday 13th to Sunday 16th March 2014
For more details visit www.meetthetrophy.com | Follow the Hashtag on Twitter: #meetthetrophy and @Heineken_NG
________________________________________________________________________________________
Sponsored Content