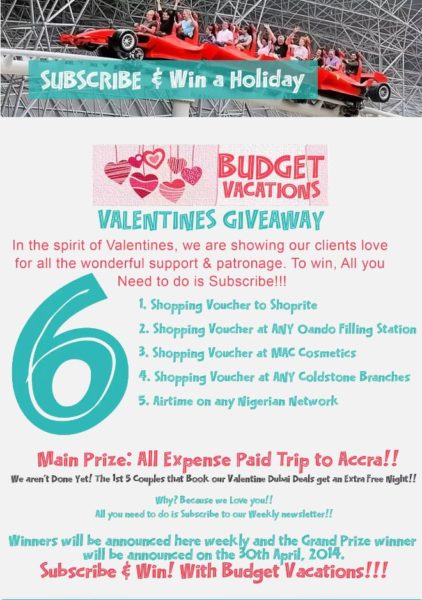 Budget Vacations is an online travel agency launched with the aim of delivering affordable and decent holiday packages, tours and hotel stay for individuals, couples or groups. From the pristine beaches of Mombasa to the Wonderful shopping malls and Gold Souks in Dubai or sightseeing to the beautiful city of Accra, they've got you covered at amazing prices!
In the spirit of Valentines and to thank all their customers for the support and patronage, they are also offering giveaways to lucky clients every week till the end of April with the Grand prize of an all expense paid trip to Accra, Ghana.
To qualify, simply visit their website www.budgetvacations.com.ng and subscribe to receive their newsletters.
For more information on the giveaway and Budget Vacations, please call 09035405442 | Add them on BBM: BB Pin 265A960E | Follow them on Twitter: @budgetvacay | Follow them on Instagram @budgetvacations
__________________________________________________________________________________________
Sponsored Content