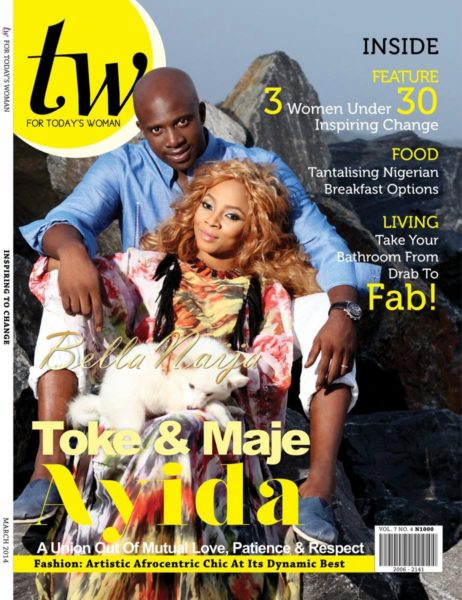 It was love through a storm for Toke Makinwa and Maje Ayida, but they are finally Mr and Mrs.
For TW Magazine's March 2014 issue, the creative team chose the Nigerian media personality and hubby who secretly tied the knot in January, as their cover stars.
A union of mutual love, patience and respect reads the headline of the magazine with the couple and their cute puppy sitting on a rock and posing for the cameras.
TW Magazine describes Toke as;
Our cover girl is a young woman with dreams of changing the world, multi-media personality…Toke Makinwa. She shares the cover with the man who recently became her husband, health and fitness expert Maje Ayida.

With over one million views, over ten thousand subscribers and a constantly rising public profile; this woman who has often suffered from negative press, & her hubby, who recently shocked everyone, including his bride with a surprise wedding; talk candidly with us in their first magazine interview as a couple.

The striking duo who have instantly become one of Nigeria's hot, young, celebrity couples, share with us their love beyond all odds, marriage, balancing each other out and their undeniable chemistry.
Also featured in the new issue, the United Nations celebrates International Women's Day – it is an ode to the strength of a woman and how it inspires.
Bukola Sawyer Izeogu (Buki) and Shola Mogaji (Schullzz) take the spotlight as TW Magazine's celebrity feature. They are women who have made their mark as radio personalities because of their unique camaraderie on Classic FM.
TW's special report features three women under thirty doing amazing things that give hope for the future, Bilikiss Adebiyi Abiola, Isoken Ogiemwonyi and Maryam Adamu Augie.
Music artiste Nosa talks to us about his career so far, signing to Chocolate City Music Label and the future of his brand. TW also talks to Shine Begho, multiple award winning radio presenter with Cool FM, about the things she just cannot live without and Robert Sirot speaks on the luxury brands of L'Oreal Luxe.
The fashion spread are packed with 20 pages of drool worthy fashion, starting with the stunning fashion editorial, which features Adesewa Josh, a young, beautiful, and eloquent newscaster with Channels Television. She rocks the spread in unique and stunning pieces that artistically express the dynamics of an African woman, her strengths, her readiness to adaptation, her beauty and her dedication to her career.
The "Practical Girl's Guide" shows four distinct ways to wear a single statement piece, and our Accessorize page features the hottest trends in accessories that rocked the International runways during fashion week. TW also rounds off its fashion pages with a "First Look" at Obsidian a contemporary womenswear and accessories label.
Packed with regular features on relationships, health, finance & beauty, plus articles to help you live your best, most authentic life, this edition is definitely one not to be missed!
Issue out now and available at newsstands nationwide. TW Magazine is available as a free app on your iPad, iPhone & iPod simply go to: https://itunes.apple.com/us/app/twmagazineapp/id662035026?mt=8
You can also get TW free for Android device at the Google Play Store: https://play.google.com/store/apps/details?id=com.twmagazine.mag&hl=en
Cover Credits
Cover Story: Feyikemi Emmanuel
Photography: Bamiyo Iselema Emina
Styling: Ayo Elizabeth Olaogun
Makeup: Onyinye @ Zaron Cosmetics
Hair: Nu Yu Studios