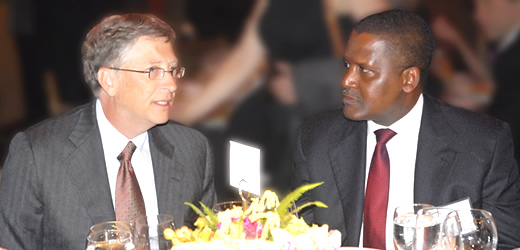 And the richest men in the world are…
Forbes Magazine presents its annual listing of the world's richest men. Over 1,645 billionaires with an aggregate networth of $6.4 trillion, up $5.4 trillion from last year, were found by the Forbes team.
Women are proving they run the world; a new record profiles 42 new women billionaires, making it 172 women in total.
After a 4-year hiatus, Bill Gates is back as the World's richest person. He retakes the crown from telecom mogul Carlos Slim Helu of Mexico who sat high on the number 1 spot for the past four years.
Bill Gates' fortune rose by $9 billion.
Aliko Dangote is forever an Oga at the Top; the Dangote Group CEO is still Africa's richest man.
Aliko who recently spoke to BBC on his business, moves up 20 spots, breaking into the top 25.
Top 5
Bill Gates, Microsoft – $76 Billion
Carlos Slim Helu and family, Telecom – $72 Billion
Amancio Ortega, Zara – $64 Billion
Warren Buffett, Berkshire Hathaway – $58.2 Billion
Larry Ellison, Oracle – $48 Billion
To view the full list and networth, click here