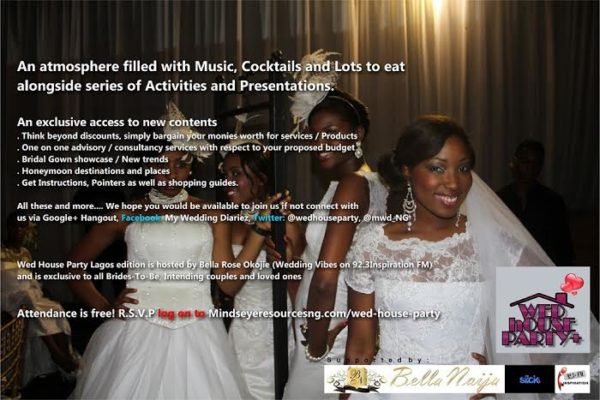 Calling all brides! You're invited to the WED House Party – a soothing atmosphere filled with music, comedy, cocktails and loads to eat where you can have the a wide selections of Resources and Vendors.
At this event, you can …
• Think beyond discounts "BARGAIN" your monies worth for specific Services and Products.
• Get Advisory / Consultancy services with respect to your proposed Budget
• Get new Trends and Bridal Gown showcase
• See Honeymoon Destinations and Places (Discounts and Options)
• Get Instructions and Pointers as well as Shopping guides
If you can't make it, you can also connect with them via Google+ hangout.
Attendance is FREE but reservation is necessary. You can R.S.V.P to attend here: Mindseyeresourcesng.com/Wed-house-Party
Date: Sunday 6th April 2014
Time: 1PM – 7PM
Venue: Exclusive location in Lagos Metropolis
For more information you can find them on Facebook: www.facebook:My Wedding Diariez | Follow them on Twitter: @WedhouseParty  or @mwd_ng | Send them an e-mail: [email protected] | Call  08162033564, 09092372102 or 08064610837 | Visit: Mindseyeresourcesng.com/Wed-house-Party
__________________________________________________________________________________________
Sponsored Content