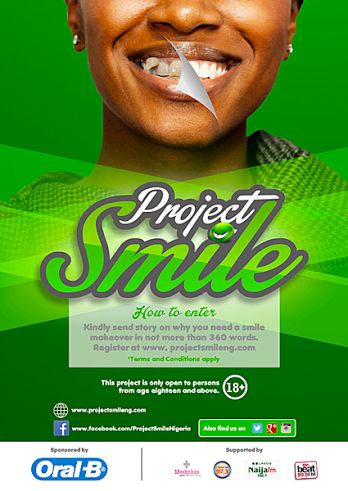 Get ready to smile your way to amazing prizes as the 2014 Project Smile competition kicks off!
Celebrating FDI World Dental Federation on World Oral Health Day with the Theme "Celebrating Healthy Smiles", CSR based smile makeover is calling all individuals who have been affected by dental flaws ranging from over-crowded and protruding and discolored teeth to far more complex cases that cannot afford a treatment programme.
These Individuals stand the chance to win a smile makeover worth millions of Naira.
To enter, you must be 18 years or above and a resident of Nigeria.
1. Click "Enter Contest" on www.projectsmileng.com.
2. Enter your story of why you need a smile makeover in no more than 360 words.
3. Upload a picture of your smile/teeth.
Hurry because entries close on Friday 9th May 2014. Finalists will be selected by a panel of dentists including Celebrity Judge Dr. Sid who is a Dentist by training.
For more information please Visit www.projectsmileng.com |  Find them on Facebook: www.facebook.com/ProjectSmileNigeria | Follow them on Twitter: @ProjectSmileNig
__________________________________________________________________________________________
Sponsored Content