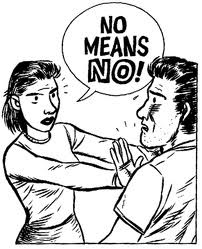 The Police is Your Friend – A sign boldly placed on most stations across the nation.
But this story, changes that caption completely.
31-year old cook Idowu Akinwunmi has revealed that she was raped by Adekunle Awe, a Divisional Police Officer in Onikan Station, Lagos. She is also alleging extortion and threatening of her life.
"I work at an eatery on Keffi Street, Obalende, as a cook. The eatery also has a tailor's shop in the compound and it belongs to the same person. There is also a (boys) quarters where we live in the compound.
Most of the workers are from Cotonou, Benin Republic. On Monday, a popular customer, known as Friday, came to eat. He later left, but some moments later, he returned to say he could not get a bus home.
Friday had been making advances at me, but we were not a couple. I allowed him to sleep over." she revealed to Punch
When her boss woke up at 1 AM, to find out Friday was sleeping in the BQ, Idowu says she called the police to arrest her and Friday. Two others in the tailors' quarters, were also arrested.
"I had only a pair of shorts, a shirt and a wrapper on. I had N11,000 in my pocket and my phone was not with me. On getting to the station, I got the phone of a policewoman and used it to call one of the tailors to come and help."
When two tailors arrived to bail them out, they were also arrested. A few hours later, she asked the officers to direct her to a clean bathroom to have her bath.
On her way out, she met the DPO, who asked her reason for being locked up.
He invited her into his office. "The DPO said he could make sure that I spent the rest of my life in jail, but I begged him. He then came close to me and started rubbing his hands all over my body but I rejected his advances.
He said my boss had told him that he could do whatever he wanted to do with me. He said since I was from Benin Republic, if he killed me, nothing would happen.
He said he would also make sure that the remaining five suspects would be sent to prison. At this point, the DPO had already taken off his clothes. Since I was afraid for my life, I allowed the DPO to have his way.
I begged him to use a condom, but he refused. He pushed me to a smaller room in his office and put me on the bed and had sex with me. Immediately after he had finished, he told me to shower in a bathroom inside his office." she shares.
The mum of 2 reveals that she cried all through the night and paid N 30,000 even after the DPO said she will be released for free.
A clinical test reveals, "A complaint of sexual assault: General clinical condition satisfactory; no laceration, no bruises, no areas of hyperemia, negative for HIV 1 and 2, pregnancy negative. Has been placed on PEP and emergency contraception."
The issue has been sent to the office of the Commissioner of Police.