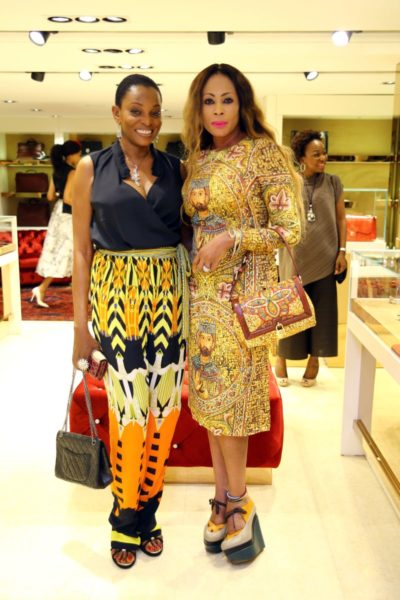 On Sunday, Lagos' fabulous fashion editors, HNI's, fashion enthusiasts and entrepreneurs came out for Polo Avenue's preview showing of the Spring/Summer 2014 collections from Gucci and Dolce & Gabbana.
The preview was a shopping affair where guests had the opportunity to get a first look and purchase accessories, leather good and shoes by Gucci and Dolce & Gabbana. The stylish guests included Nkiru Anumudu, Ruth Osime, Grace Osime, Dimeji Alara, Lanre Da Silva Ajayi, Bola Balogun, Chin Okeke, Elohor Aisien and many more. While shopping, guest sipped on champagne provided by Pernod Ricard, who sponsored the cocktails for the event.
According to Jennifer Obayuwana, the Executive Director of Polo Avenue, "the essence of the preview event was to give our customers the opportunity to view and experience the newest collection in an intimate setting. This is part of our commitment at Polo Avenue to provide Nigerian luxury consumers an elevated luxury shopping experience that is unparalleled in creativity and bravura".
View photos from the event.
Stefano Gabbana described the Dolce & Gabbana S/S 2014 collection as a dream of Sicily. The collection is inspired by coinage, architecture, and sculptures apparent in the leather goods and shoes with use of colours and neutral mosaic colours.
Also, within the collection are floral and crystal embellished leather goods and shoes in several colors. The collection features an array of selection for special occasions to everyday use.
The Spring/Summer collection for Gucci and Dolce & Gabbana for both men and women are now available at Polo Avenue on 166 Ozumba Mbadiwe, Victoria Island, Lagos.
________________________________________________________________________________________
Sponsored Content