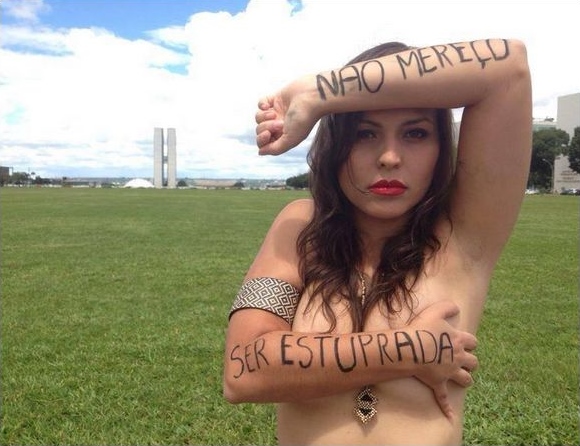 Brazilian women are protesting against the notion that that they deserve to be raped for wearing revealing clothes.
Spearheaded by Nana Quieroz, a female journalist, the protest was launched in response to a controversial survey in which a majority of male and female Brazilians expressed that women in revealing clothes deserve rape (if you missed this story, click here).
In response to this issue, women in Brazil launched a viral photo campaign on Twitter, in which they posted pictures of themselves wearing little or no clothing and holding placards with the statement, "I don't deserve to be raped," Daily Mail  reports. Some Brazilian men also participated in the campaign, posting photos of themselves also holding anti-rape placards with slogans like "No woman deserves to be raped." The hashtag #EuNaoMereçoSerEstrupada, (#IDon'tDeserveToBeRaped) went viral.
In Brazil, a woman is raped every 12 seconds.
 Photo Credit: Twitter & Huffington Post