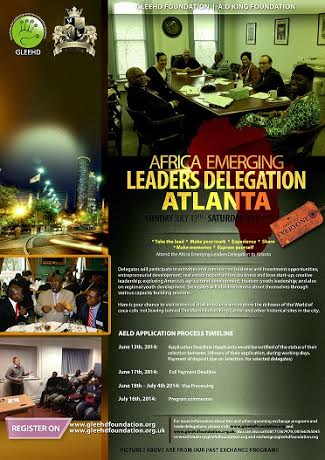 Get ready for the Spring Exchange Program 2014 and Delegations set to hit Spain, Canada and Atlanta in June and July 2014.
As part of her ongoing efforts to provide a boost to the empowerment and development of emerging leaders and professionals across Africa, the GLEEHD Foundation launched the program in partnership with Common Cause Africa Canada, NIDO Europe, Piety Inc., Amandla Consulting and the A.D King Foundation.
The Foundation's exchange programs and delegation provides an opportunity for Africa's Emerging Leaders and Professionals to interact with their counterparts in other developed nation, build new relationships, expand their network, synergise to achieve their dreams and learn best practices. The delegations mission usually includes interaction with government officials, political leaders, business leaders and representatives of social movements and NGOs, as well as visits to research institutes, leading global firms and places of historical interest.
In all cities, delegates would also be hosted to a reception by the Nigerian Embassy, during which participants would be issued their certificates of participation.
According to the program officer Dame Adekunle, "We are committed to providing high quality experiences to all participants. We believe that our exchange program offers significantly greater benefits than independent travel so we have done everything possible to minimize the costs to participate in this program".
View the schedule below.
Spain
Date: Sunday 1st June 2014
Registration/Payment Deadline: Monday 12th May 2014
Canada
Date: Sunday 22nd – Saturday 28th June 2014
Registration/Payment Deadline: Thursday 15th May 2014
Atlanta
Date: Sunday 13th – Saturday 19th July 2014
Registration/Payment Deadline: Friday 13th June 2014
For more information, please visit www.gleehdfoundation.org and www.gleehdfoundation.org.uk
___________________________________________________________________________________
Sponsored Content