Great news for beer lovers!
International premium lager beer – Heineken, has unveiled the first stylish Draught Beer innovation in Nigeria. The unveiling took place at the Heineken House, Lagos.
Now, what is Draught Beer? Well it is a great innovation where beer is served from a keg rather than from a bottle or can and can keep the beer fresh for an upward of 30 days.
Described as "The David system", it was introduced to the media and other special guests including Mario Bratovic, Food & Beverage Director of Lagos Oriental Hotel by Franck Evers.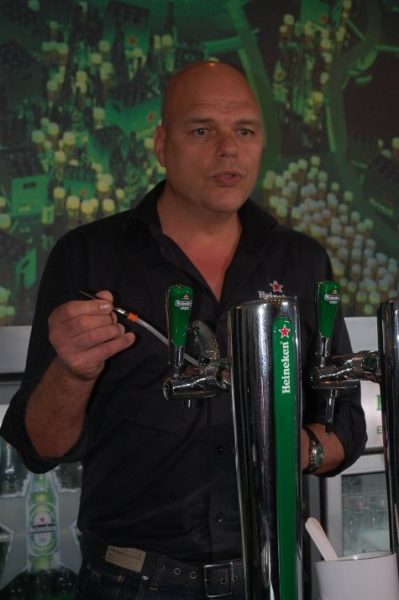 The draught master told his audience that the way a beer is served is crucial in keeping its quality thus making the experience of enjoying it more wholesome. "If you want the beer to taste the way it was intended, it's all about the 5 Perfect Serve Steps: The beer, which must be extra cold should be poured into an extra cold Heineken glass at 45 degrees slanting, this will achieve a two finger wide foam head. Afterwards, it's ready to be served", he said.
Wow! Who knew so much went into pouring the perfect glass of beer?
Check out photos from the event below.
________________________________________________________________________________
Sponsored Content