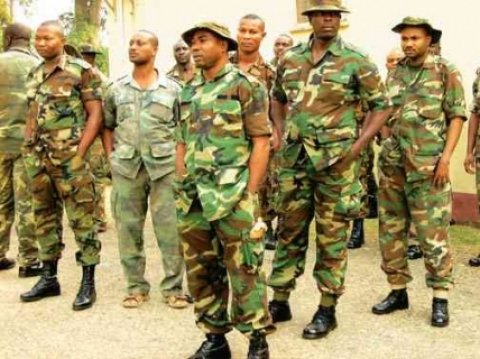 Major General Ahmadu Mohammed, yesterday, narrowly escaped death, when his soldiers opened fire on his vehicle, when he came to address them at Maimalari Barracks in Maiduguri, Borno.
The soldiers are a part of the newly formed 7th Division of the Nigerian Army set up specifically to combat Boko Haram in the region.
They reportedly attacked their commander because they were infuriated when they saw the bodies of their colleagues ambushed by Boko Haram terrorists in Chibok, according to Sahara Reporters. 
The soldiers were unhappy because their commander allegedly has not provided them with adequate weapons to fight the war against Boko Haram militants.
"We the soldiers don't have the kind of arms and ammunition that [Boko Haram] fighters have. So everyday, they kill our men anyhow, but it is never published in the media," said a source.
Another source reportedly complained that commanding officers are too busy "eating money," and as a result, soldiers' allowances weren't being paid on time.
The aforementioned issues and other frustrations about the soldiers' overall welfare, were factors that led to the attack.
Update
The Nigerian Army has fired Major General Ahmadu Mohammed. A spokesman of the Nigerian Army, Major General Chris Olukolade, announced the removal of the General Officer commanding the 7th Division today, according to Sahara Reporters.
Photo Credit: Sahara Reporters