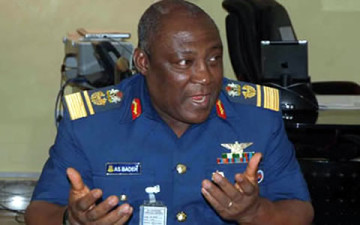 Air Marshal Alex Badeh, the Chief of Defence Staff, has revealed that the security personnel in Nigeria have located where members of Boko Haram are keeping the 200+ school girls abducted on April 14th.
Alex Badeh said the military would not use force to release the girls because of the need to prevent the insurgents from killing them, Punch reports.
The military said they do not intend to go without proper planning, so as not to endanger the lives of the girls.
"We want our girls back,; we want our girls back; we can do it, our military can do it but where they are held, can we go with force?
If we go with force, what will happen? (they will kill them). So nobody should come and say the Nigerian military does not know what it is doing. We know what we are doing, we can't go and kill our girls in the name of trying to get them back. So we are working.
The good news for the girls is that we know where they are but we cannot tell you, we cannot come and tell you military secrets here. Just leave us alone, we are working, we would get the girls back." he said.