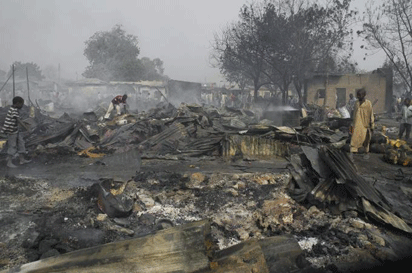 Over 100 people were killed yesterday in a communal clash involving three border communities in Borno State.
The cause of the clash was a religious war between Christians and Muslims, Vanguard reports. The communities involved in the clash were Gwoshe, Attagara, and Aghapalwa.
The war was sparked by the killing of about nine Christians by Boko Haram last Sunday at a church service in Attagara. According to reports, the Christian youths in the area conducted a spontaneous reprisal attack killing 37 of the Islamic militants. 
However some Muslims in the area are alleging that apart from killing Boko Haram members, the Christian youths also killed other Muslims.
As a result, Muslim and Christian youths clashed, resulting in the burning down of the whole village and the killing of more than 100 villagers.