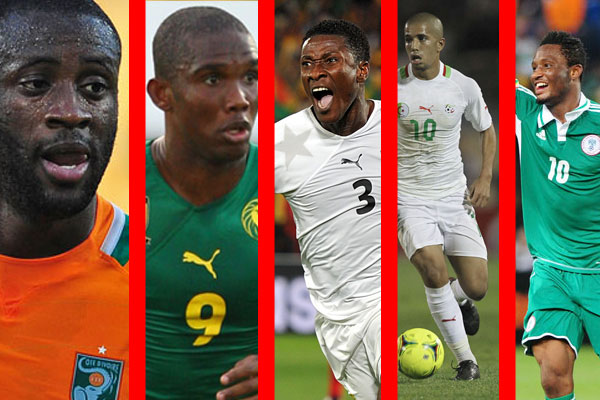 Let's get the least impressive out of the way first: Cameroon. The "lions" failed to exhibit their strength in Brazil and unsurprisingly crashed out of the tournament with a game still to be played tonight. Their lackluster performance was woeful enough to earn them a place as the most disappointing African team in Brazil. A loss to Mexico and Croatia with a teammate head-butting disgraceful fight in the latter, doesn't give them the much needed encouragement to improve their game against the hosts, Brazil.
Final Word: Bow out gracefully by avoiding a loss.
The Super Eagles of Nigeria beat Bosnia and Herzagovina 1-0 to record their first World Cup win since 1998 and to setup entertaining games in the final group D matches. Now second in the group with four points, behind already-qualified Argentina who have six points, the Eagles will need a point to guarantee advancing to the second round, with Iran still in the mix. The last time Nigeria recorded victory at the World Cup was in France 1998, with their previous appearances in Korea/Japan 2002 and South Africa 2010 ending without a single win. Final Word: Get at least a point against Argentina to book a place in the round of 16.
It's all smiles for Africa's representative in Group C,Ivory Coast, as they have a better chance of going through, than their last group game opponents, Greece. Victory over the unimpressive Greeks will put them into the last 16 for the first time in the World Cup. The Elephants will be looking for inspiration from the likes of their prolific front man, Didier Drogba and hope the Toure brothers have gotten over the death of their brother. Final Word: Beat the Greeks and move on.
Algeria ended their 32 years winless World Cup run in style as they beat South Korea 4-2 to keep their dream of the knockout stages alive. It was a game of pure ecstasy for the Algerians who scored two goals in two minutes to thump the Taeguk Warriors in a game of true class. Algeria know a draw against Russia would be good enough to book them a place in the second round for the first time. Final Word: Beat Russia and stay in Brazil.
Don't think I forgot, let's give a round of applause to the Black Stars of Ghana who really made us proud and showed the German machines what African football can produce. Kudos! A win against a struggling Portugal team can be enough take them to the next stage, if there is a winner in the game between USA and Germany.
Final Word: With only one point, a win with a good goal difference is needed against Portugal.
_______________________________________________________________________________________
Adeola Omitiran is a BSC Graduate in Mass Communications with news, sports & lifestyle journalism experience for over 3 years. As an avid lover of sports, she is living her dream of keeping the football world on its feet.