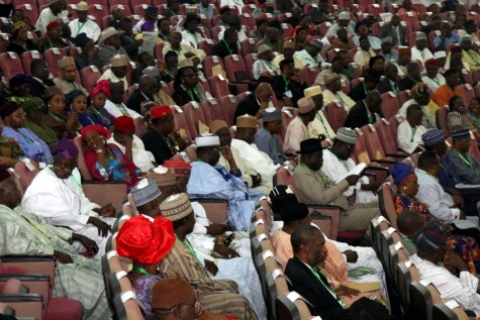 A large number of delegates at the ongoing National Conference in Abuja are alleging that the Federal Government is yet to pay their allowances.
As a result, many are stranded. Some have been thrown out of their hotels for failure to pay their lodging bills due to lack of funds according to Sahara Reporters.
The government had budgeted an allowance of N4 million per month for each of the more than 400 delegates. This budget caused public outrage in Nigeria, as many decried the extravagant budget. 
Felicia Sani, one of the delegates,who is the president of Market Women Association of Nigeria, was one of the people who expressed her disappointment about the unpaid allowances. 
"You assemble us here and you cannot pay [us]. It is wrong and this is part of the corruption we are facing in this country. Just show me the man who is keeping the money and I will go and get it. Please deputy chairman, check your house," she said.
Bolaji Akinyemi, deputy chairman of the Conference, has  informed delegates that the money for payment of allowances is available but has not been released yet.