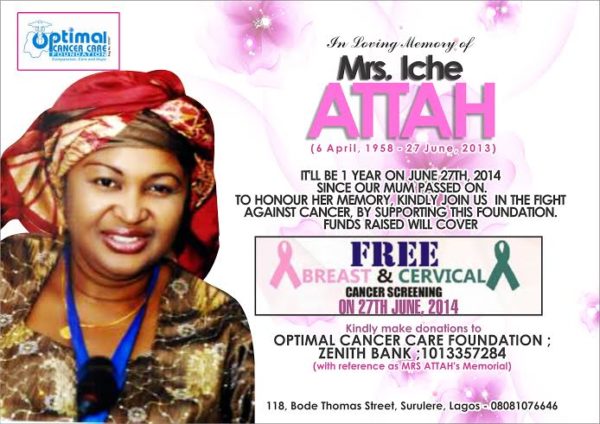 To honour the loving memory of their late mother – Iche Attah – the Attah family with support from the Optimal Cancer Care Foundation is sponsoring a free breast and cervical cancer screening in Lagos.
With over 100,000 new cases of cancer diagnosed every year in Nigeria, the Attah family have organised this screening to draw attention to the deadly disease by educating women on the importance of regular screening for early detection and treatment.
The Optimal Cancer Care Foundation promotes cancer screening as a tool of prevention and advises eligible men and women to undergo regular screening to safeguard their lives against the disease. They offer three types of screenings – Breast and Cervix for woman and Prostate for men.
To show your support towards raising awareness of this deadly disease, you can help by donating. These donations would go towards covering the free screening of every woman that visits the centre that day as well as subsidized treatment costs for those who need financial support afterwards.
Donations can be made to;
Name: Optimal Cancer Care Foundation (Reference: Mrs. Attah's Memorial)
Bank: Zenith Bank
Account Number: 1013357284
(Please put reference to enable the foundation account for the funds)
Date: Friday 27th June 2014
Venue: 118, Bode Thomas Street (Close to GTBank), Surulere, Lagos