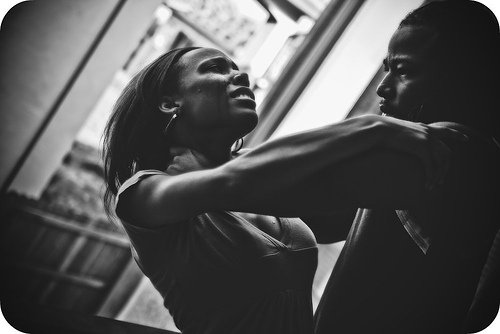 Domestic violence in all its entity is completely wrong – not only are lives sometimes lost, it can cause the victim to be scarred for life.
A quick look at the dailies, you will read fresh stories of physical abuse – "Woman hospitalised after husband physically abuses her" is an example of a headline, or "Boy commits suicide after girlfriend jilts him" that is in the case of emotional abuse.
A panelist for Sports Network ESPN, Stephen A. Smith, has come under fire for his recent comments on domestic abuse.
On ESPN's "First Take" on Friday morning while addressing the two-game suspension handed to Baltimore Ravens' Ray Rice for assaulting his then fiancee Janay Palmer, who he later married, he dropped some strange words.
He claims that women sometimes provoke domestic violence. Below is a transcript of his words;
"We know you have no business putting your hands on a woman. I don't know how many times I got to reiterate that. But as a man who was raised by women, see I know what I'm going to do if somebody touches a female member of my family. I know what I'm going to do, I know what my boys are going to do. I know what, I'm going to have to remind myself that I work for the Worldwide Leader, I'm going to have to get law enforcement officials involved because of what I'm going to be tempted to do.

But what I've tried to employ the female members of my family, some of who you all met and talked to and what have you, is that again, and this what, I've done this all my life, let's make sure we don't do anything to provoke wrong actions, because if I come, or somebody else come, whether it's law enforcement officials, your brother or the fellas that you know, if we come after somebody has put their hands on you, it doesn't negate the fact that they already put their hands on you. So let's try to make sure that we can do our part in making sure that that doesn't happen.

Now you got some dudes that are just horrible and they're going to do it anyway, and there's never an excuse to put your hands on a woman. But domestic violence or whatever the case may be, with men putting their hands on women, is obviously a very real, real issue in our society. And I think that just talking about what guys shouldn't do, we got to also make sure that you can do your part to do whatever you can do to make, to try to make sure it doesn't happen.

We know they're wrong. We know they're criminals. We know they probably deserve to be in jail. In Ray Rice's case, he probably deserves more than a 2-game suspension which we both acknowledged. But at the same time, we also have to make sure that we learn as much as we can about elements of provocation. Not that there's real provocation, but the elements of provocation, you got to make sure that you address them, because we've got to do is do what we can to try to prevent the situation from happening in any way. And I don't think that's broached enough, is all I'm saying. No point of blame."
Here is the video

Stephen A. Smith's colleague Michelle Beadle took to Twitter to speak out on his comments.
So I was just forced to watch this morning's First Take. A) I'll never feel clean again B) I'm now aware that I can provoke my own beating.

— Michelle Beadle (@MichelleDBeadle) July 25, 2014
I'm thinking about wearing a miniskirt this weekend…I'd hate to think what I'd be asking for by doing so @stephenasmith. #dontprovoke

— Michelle Beadle (@MichelleDBeadle) July 25, 2014
I was in an abusive relationship once. I'm aware that men & women can both be the abuser. To spread a message that we not 'provoke' is wrong

— Michelle Beadle (@MichelleDBeadle) July 25, 2014
Violence isn't the victim's issue. It's the abuser's. To insinuate otherwise is irresponsible and disgusting. Walk. Away.

— Michelle Beadle (@MichelleDBeadle) July 25, 2014
BellaNaijarians, what's your take?