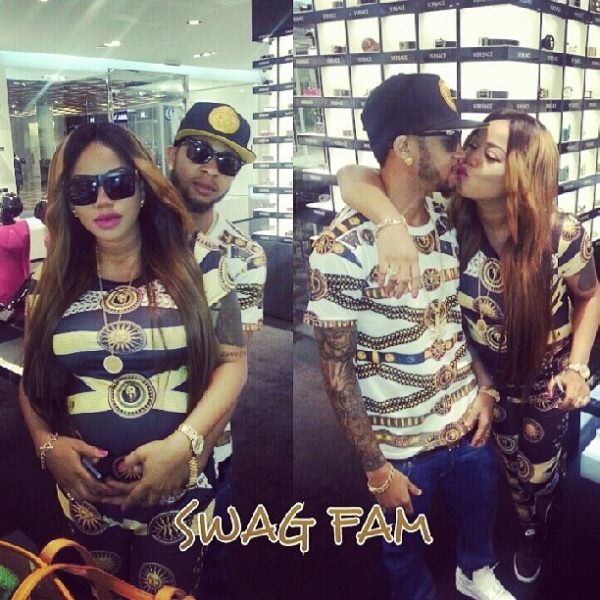 In June 2013, Nigerian celebrity stylist and fashion designer Toyin Lawani revealed that she was in a relationship with rising music act Trigakess. He is 10 years younger that her.
"Well I am 31 and my husband is 21 guess dem Madonna bad pass me. lol" she said at the time.
On the 1st of January, the couple welcomed a boy. Toyin also has a daughter.
Although their relationship has faced a lot of the criticism, the couple who call themselves "Mr & Mrs Swag", are stronger than ever a year later.
Speaking on fashion and style with Punch Newspaper, 32-year-old Toyin who says she is not bothered about the critics, said that "It is the will of God" for her to date the 22-year-old.
Read excerpts from the interview;
On the difference between a designer and a tailor: "It is a tricky question. To me, a designer is someone who creates while a tailor is someone who helps them bring their vision to life. One person can also be both. Not all designers know how to sew, but some tailors have grown to become designers."
On trends by celebs that irk her: "I won't call it a fashion mistake, but I hate to see lace wig. It is nothing personal."
On ladies showing too much decolletage: "One at a time. You can't expose both. In any case, just go for what suits you."
On design ideas: "I am a deep thinker, I also like to think outside the box. If you have seen my designs, there is something you go back home with, it is unique."
On her children going into the fashion business: "Oh yes. I would like to keep the legacy. All parents want the best for their kids, and if this is what makes any of them happy, why not?"