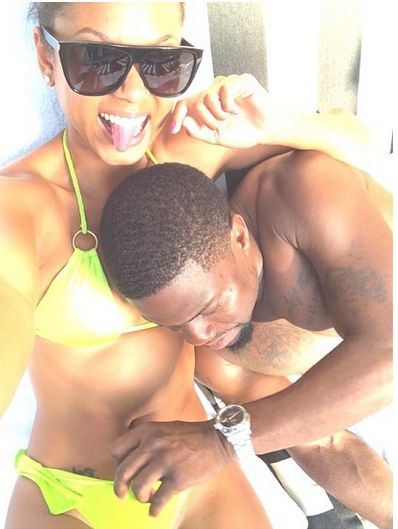 Kevin Hart is once again defending his girl.
The "Think Like A Man Too" star's model girlfriend Eniko Parrish shared a photo of the couple relaxing by the beach.
In the snap, Kevin gets a little naughty, while Eniko in a yellow bikini smiles on into the cameras. "LOL! He had no idea I caught him being a perv." she captioned the photo.
Kevin hit back at a fan that implied she wouldn't be with him if he was not a celebrity.
"Would she be your rib if you worked at Wal-Mart?", a follower on Instagram using the handle atldiva65 said. "I love you Kevin, but I'm just saying! Your rib is that [woman] that's there when you have nothing to offer but yourself." the fan finished.
Kevin who referred to Eniko as his rib, didn't laugh it off. He replied saying, "Well, @atldiva65 we will never no know the answer to that because I don't work at Walmart. Even more important who are you to define what the definition of RIB is to me?"
"The meaning of RIB to me is a woman that I can't live without because of the pain that it would cause if she was gone. If I took ur RIB out you would be in a bunch of pain regardless of what you did in life." he concluded.
Photo Credit: Instagram