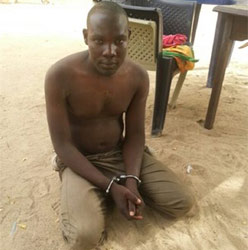 The Nigerian military has arrested a man whom they suspect to be one of the masterminds of the abduction of the over 200 Chibok school girls.
The Defence Headquarters released a statement yesterday announcing the arrest, according to Punch.
In the statement, the alleged mastermind is identified as Babuji Ya'ari, a business man who is also the leader of a youth vigilance group called "Civilian JTF."
Ya'ari is also being accused of orchestrating the murder of Idrissa Timta, the Emir of Gombe who was murdered by Boko Haram members last month.
He is also said to be a culprit in various bombings in Maiduguri since 2011.
According to reports, Ya'ari used his Civilian JTF membership to acquire information to facilitate the insurgents' operations.
In addition, authorities have revealed that the accused gave them information that aided in the arrest of some his female accomplices who assisted Boko Haram in their terrorist activities
Photo Credit: Punch