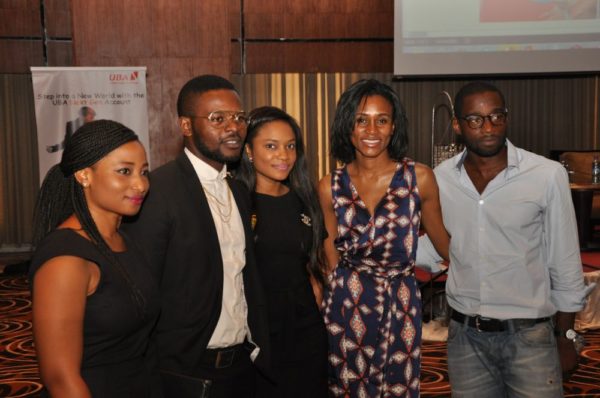 In its bid to meet the unique needs of teenagers and young adults; United Bank for Africa (UBA) has launched a new account – "Next-Gen".
This new account, which was launched at Intercontinental Hotel on Monday 9th June 2014, is a suit of personal current accounts designed to offer special privileges and opportunities to account holders. And even though the product is designed as a current account, holders have the opportunity of automatically being enrolled for savings accounts as well.
Speaking at the launch of the product, Femi Olaloku (Executive Director, Treasury and International Banking) who represented the bank's Group Managing Director & Chief Executive Officer, Phillips Oduoza said "Next Gen is about capturing and engaging the next generation of educated and enlightened professionals, employees, entrepreneurs, self employed persons, from all walks of life, early in their financial life cycle."
"This is a product that grows with the customer from his or her teenage years to when he or she becomes a young adult. Next Gen is unique in the banking industry because it is not really a product. It is a partnership where the bank is taking on a mentorship role to guide customers into a future life of prosperity." Olaloku explained.
He also said that the Next Gen account has been designed to take care of every young person's unique needs from when he or she first breaks into his or her teenage years at 13 to when he or she is on the border of full adulthood at 34.
Breaking down the unique features of the Next Gen account, Iyke Idukpaye (Head, Current Accounts and Credit Products, UBA Plc) explained that teenagers who open a Next Gen account will become part of the UBA Teen Fan Club, which offers great opportunities and great networking.
He also explained that as teenagers with a Next Gen account grow and gain admission into tertiary institutions, they will enjoy great mentorship, internships and career advisory reserved only for account holders.
The event was filled with students from different tertiary institutions. Rising Music act, Falz addressed the students on the need to adopt a savings culture and described the Next-Gen initiative as a "great initiative" which will attract young entrepreneurs like him to open an account with UBA.
Also in attendance were Ebuka Obi-Uchendu of Ebony Life TV, Yemi Alade and Sean Tizzle.
____________________________________________________________
Sponsored Content