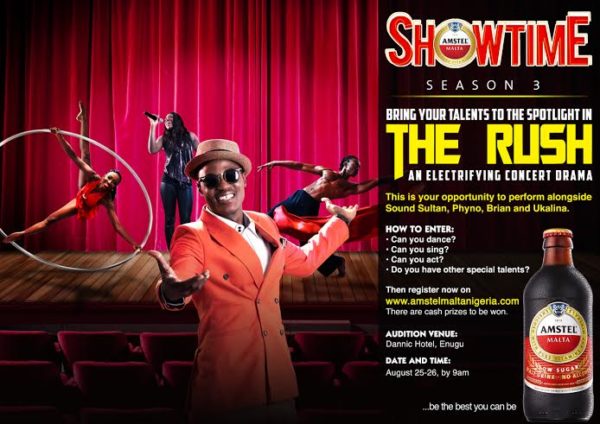 The 3rd season of the Amstel Malta Showtime is ready to kick off and it all starts in Enugu.
The concert-drama tagged "The Rush" directed by Ice Nweke, will feature 5 talents selected via auditions from each region. The selected talents will then be set to perform in Enugu on Friday 29th August 2014; and talents in Lagos would perform on Thursday 18th September 2014.
The coal city will play hots to thousands to individuals who will have to vie to impress the judges with an exceptional display of their unique abilities during the auditions in order to stand a chance of featuring alongside popular and renowned Nigerian entertainers – Sound Sultan, Phyno, Gordons, Ice Nweke and Ukalina.
The auditions are open to youths with outstanding talents such as musicians, actors, comedians, contortionists, puppeteers and more.
See the schedules below;
Audition Dates
Enugu
Date: Monday 25th & Tuesday 26th August 2014
Time: 8AM
Venue: Dannic Hotels, New Haven, Enugu
Lagos
Date: Sunday 14th & Monday 15th September 2014
Time: 8AM
Venue: Unilag Main Auditorium, Unilag, Lagos
Event Dates
Enugu
Date: Friday 29th August 2014
Time: 5:30PM
Venue: Golden Royale Hall, Enugu
Lagos
Date: Thursday 18th September 2014
Time: 5:30PM
Venue: Unilag Sports Center, Unilag, Lagos
For more information, click HERE
_________________________________________________________________________
Sponsored Content