LG Electronics (LG) has announced the release of its new four-door refrigerator with 'Door-in-Door'™. Accessible with the simple push of a button, the innovative 'Door-in-Door'™ lets consumers quickly and easily take out their frequently used snacks and drinks. LG's new refrigerator also features the revolutionary Inverter Linear Compressor, which ensures considerable energy savings and a quiet performance.
With the simple push of an easy open button, LG's 'Door-in-Door' Refrigerator enhances convenience by keeping sought-after food and beverage items within easy reach. It also reduces the number of times the user needs to access the main storage compartment. This helps to reduce cold air escape by up to 47.3 percent compared to opening the fridge door and keep food fresher for longer.
"Consumers have told us what they really need is a refrigerator that provides easier access to the items they use most often and the efficiency to render greater energy savings," said Hyunwoo Jung (General Manager, Home Appliance division, LG Electronics West Africa operations). "LG's new 'Door-in-Door'™ refrigerator featuring the unprecedented Inverter Linear Compressor gives people exactly what they've been looking for – quick, easy access and reduced energy consumption. And, thanks to our Smart Storage System, the refrigerator also offers consumers a smarter way of keeping their food organized."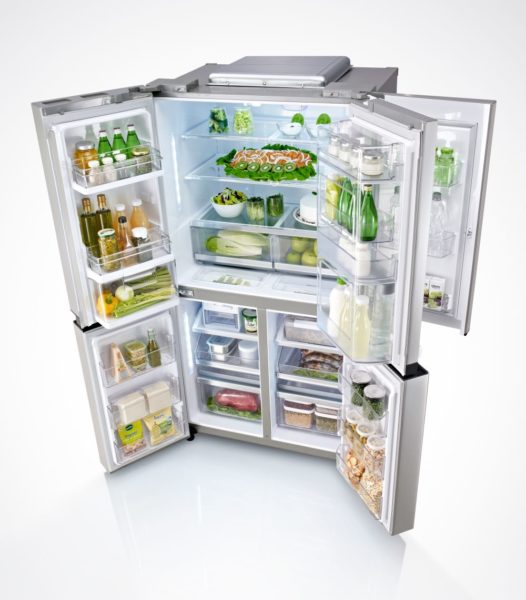 The inclusion of 'Hygiene Fresh+'™ helps to keep food fresher for longer while the 'Smart Storage System' allows users to arrange the inside of the fridge in whatever way works best for them. LG 'Door-in-Door' Refrigerator also provides extra shelf space, enabling users to organize the refrigerator in a way that meets consumers' needs.
They can raise or lower the handy Adjustable Moving Basket depending on what they want to store and use the Mini Table – which provides a convenient, flat surface – to pour drinks into a cup or glass while standing at the fridge; saving the hassle of carrying heavy bottles to the dining room.
The 'Smart Storage System' improves food organization and maximizes convenience. Fitting neatly inside the main door, the 'Slim In-Door Ice Maker' benefits the user with more shelf space – meaning better organization and access. By relocating the ice maker from the top shelf of the refrigerator to inside the left door, LG's refrigerator can deliver even more room for food and beverages.
Meanwhile, the new 'Extra Space', a recessed area at the bottom of the main compartment, opens up a new found 'space' in the fridge ideal for storing eggs and small food items such as cheese and sliced deli meats among others. The 'Smart Storage System' also incorporates the 'Folding Shelf', which conveniently folds away to make room for larger items like tall bottles or soup tureens. LG's comprehensive organization system also extends to the freezer section's 'Multi Drawer Freezer' and Sliding Shelf. As well as providing plenty of storage, the 'Sliding Shelf' is easy to open and can safely support heavy items.
Thanks to LG's revolutionary 'Inverter Linear Compressor', LG refrigerators provides up to 32 percent energy saving and 25 percent less noise. Employing a linear piston drive instead of a conventional reciprocating drive, LG's advanced 'Inverter Linear Compressor' generates less internal friction resulting in lower energy requirements and noise as well as greater reliability and durability due to the reduction of friction points. It also helps food stay fresher with an optimal temperature balance and comes with a 10-year warranty.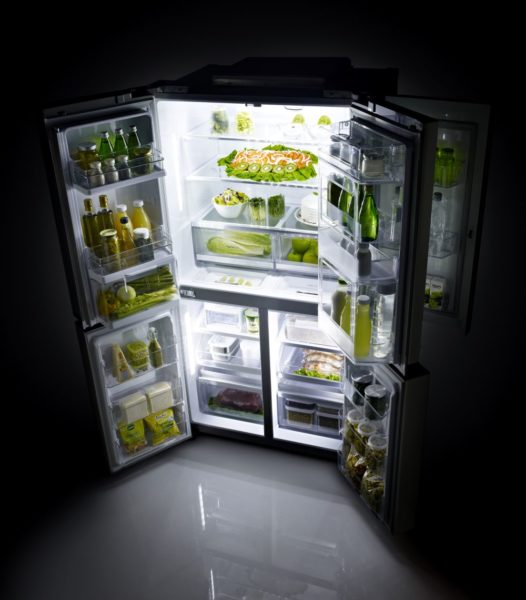 The upgraded 'Hygiene Fresh+'™ air purification system employs multi-layer filters and a proprietary fan to help sterilize and remove bacteria, viruses, mold spores and odors from the fridge's interior. LG's advanced system performs a highly effective five-step process. The double photocatalyst and UV LED help to eliminate 99.999% of bacteria while the double carbon deodorizers reduce the presence of acidic and alkaline odors given off by rotten vegetables and fish. The filters implemented in Hygiene Fresh+™ have long lifespans, and won't need replacing for a considerable period of time. This means more convenience and less cost for the consumer.
Located in the main door, the refrigerator's water dispenser delivers fresh and cold water and boasts a new, slimmer design that helps to create an additional 10 liters of space for food storage. In addition, the shiny horizontal pocket handle makes the refrigerator more stylish and luxurious.
_____________________________________________________________________________________
Advertorial – Sponsored Content