As part of its efforts to reduce the prevalence of oral health problems in Nigeria, Unilever Nigeria Plc unveiled the new Pepsodent Gel Toothpaste! The event was well attended by over 100 parents of school children, teachers and the EXCO members of the Nigerian Dental Association.
Speaking at the event, David Okeme (Brand Building Director, Unilever Nigeria) said in order to let tour kids get stronger teeth for the future, it is important to stay healthy and avoid oral care problems. "The New Pepsodent Cavity Fighter toothpaste integrates Active Micro Calcium and Pro-Floride Complex. This dual technology is proven to effectively fight cavity and fortify teeth in the long term". "Micro Calcium- helps repair tiny invisible holes before they become cavity. Pro Fluoride Complex – protects teeth for longer" he added.
He also noted that as part of their commitment to supporting the cause of fighting tooth cavities, Unilever is donating over 10 Million worth of Pepsodent toothpastes to the Nigerian Red Cross Society (NRCS).
According to the guest speaker from Obafemi Awolowo University, Ile Ife, Prof. Adeyemi Olusile – "Tooth Cavity is a bacterial infection that causes removal of mineral irons from the dental enamel and destruction of the hard tissues of the teeth. This is a result of the production of acid by bacterial fermentation of food debris accumulated on the tooth surface."
"Bacteria have means of sticking to our mouth, and if we do not brush them properly in the morning and night, they cause holes in our teeth. Therefore, we must brush our mouth twice daily with calcium and fluoride filled toothpaste, like Pepsodent in order to reduce bacteria in our mouth and make it not to smell" He added.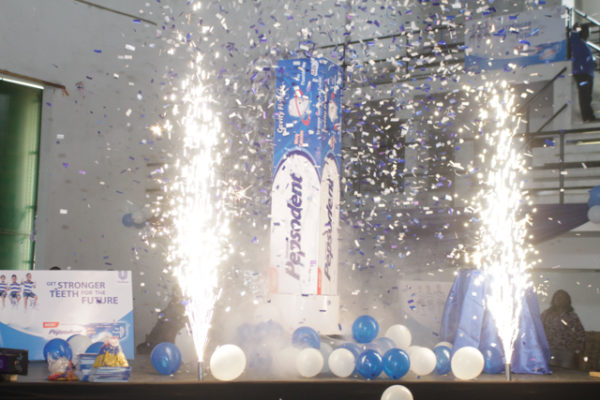 Finally, receiving the donation of Pepsodent to NRCS, Engr. Mobolaji Onibudo (Lagos State Branch Chairman of NRCS) said – "this is a unique product and I'm sure it is going to be widely accepted by the beneficiaries who are the various motherless homes under Nigerian Red Cross Society. Also, we know the level of insurgencies we are facing in the country, we have a lot of internally displaced people, and in the various camps set up by the Federal Government they are facing different levels of the challenges. I'm sure this particular product will find its way there, and would solve the problems of a lot of children and adults alike because when your mouth is well cleaned, you would breathe well and have fresh breath. And of course it transforms to good health."
_______________________________________________________________________________________
Sponsored Content