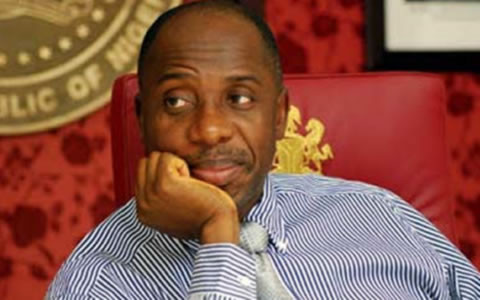 Rotimi Amaechi, the Governor of Rivers State, on Wednesday explained why he was the target of attacks from some politicians within and outside the state.
He said this at a meet-the-people tour of communities in Obio/Akpor Local Government area of the state.
"Most of the people opposed to me are in the rank of those I assisted one way or another, some by contract awards but they failed to deliver", he said according to Vanguard.
He also added that;
"If you check Obio/Akpor council, you will see how many persons that have grown through me.

Almost 80 per cent of those fighting me today are people who I have given billions of naira in contracts and they have put the money in their pockets, they did not deliver and they claim they are Ikwerre people.

I have said that the road at Eneka was given to an Obio/Akpor son. The internal road at Rumuolumeni was given to a Rumuolumeni son. They gave it to one of Obio/Akpor's sons to do. They have not done it. They have no fear, no shame.

You know, the worst money to steal is the money belonging to your people. For me, go and check Ubima Road, as an ordinary Special Assistant to Chief Rufus George, the money he brought, we did the Ubima Road and when I became Speaker, I got Dr. Peter Odili to do the road and the road lasted until I became governor.

I did not touch Ubima money. I did not say 'I want to be a big man, contractor, give me N40 million first'. The first road to Ubima was N40 million, one kobo I did not see.

All the roads in Rumuepirikom(community of Nyesom Wike) were done by this administration. I gave the contracts to your son and paid hundred per cent. But almost all the roads there have gone bad and they are not major traffic route. It is because of greed.

As an Ikwerre man, what else can I do? Please tell me what else do you want me to do that I have not done? I just did not do the road, I gave it to Ikwerre people to do. If you are not a good contractor, you look for a good contractor to do for you, is it not? Now, you are not a good contractor, you don't want to hire a good contractor, you just buy one pay loader and you begin to scratch the ground."