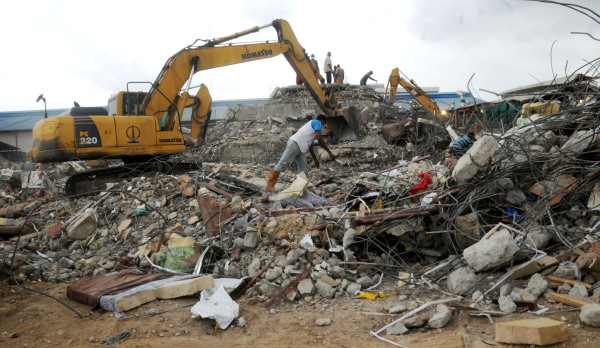 Following the collapse of a building at TB Joshua's Synagogue Church of all Nations, which claimed the lives of over 67 people, the church's authorities have released an official statement on the matter, stating that the tragedy occurred because of an attack.
The statement, which was was posted on the Synagogue's official Facebook page, contained condolence messages and reassurances of the church's commitment to ensuring survivors get adequate care. In addition, the statement also revealed the church authorities' conviction that "attackers" were behind the incident, and that "…in due course, God will reveal the perpetrators of this unfortunate tragedy."
Here are excerpts from the statement:
Emmanuel – God is with us.

The pain of one is the pain of all. It is indeed a sad and painful moment for the families and friends who have lost loved ones. It is equally so for us in The Synagogue, Church Of All Nations (The SCOAN), under the leadership of Prophet T.B. Joshua.

On Friday, September 12, 2014, at about 12:44pm, one of the buildings on The SCOAN property unexpectedly collapsed, tragically resulting in death and injury. Nigerians and citizens of other nations were affected. This incident was preceded by the appearance of a strange aircraft which flew very low over the building four times and then disappeared.

Since the day of this incident, The Synagogue, Church Of All Nations, its members and partners, have worked in collaboration with the Nigerian, South African and other nations' authorities to ensure that survivors are rescued, attended to with the best medical treatment, cared for in the most humane and hospitable manner and reunited with their families, while those who passed on – martyrs of the Kingdom of God – are retrieved, identified and treated respectfully.
Amongst those we are working hand-in-hand with, are: The Federal Government of Nigeria, the Government of the Republic of South Africa, Lagos State Government, the National Emergency Management Agency (NEMA), the Lagos State Emergency Management Agency (LASEMA), the Lagos State Ministry of Health – doctors and nurses, the Standard Organization of Nigeria (SON), the Red Cross, the Nigeria Police Force and various Non-governmental and humanitarian organisations and construction and engineering corporations.

It is very sad that inaccurate reports are coming from some quarters that we are not cooperating with the rescue teams and other agencies in collating information and providing assistance on the incident. Contrary to this, we want to categorically state that the church has provided assistance when and where required and continues to do so – good Christians are good citizens.

We emphasise our commitment to cooperate with all relevant authorities in establishing the cause of the collapse of the building.
The church views this tragedy as part of an attack on The Synagogue, Church Of All Nations and in particular, Prophet T.B. Joshua. In due course, God will reveal the perpetrators of this unfortunate tragedy.
Read the entire statement on the Synagogue Church of all Nations' Facebook page.