Yay! It's been a while since we had a BN Our Wedding Story!
Mary Ajetunmobi & Bisi Akinkugbe share their adorable love story and relay the experience of planning their Lagos wedding while out of the country.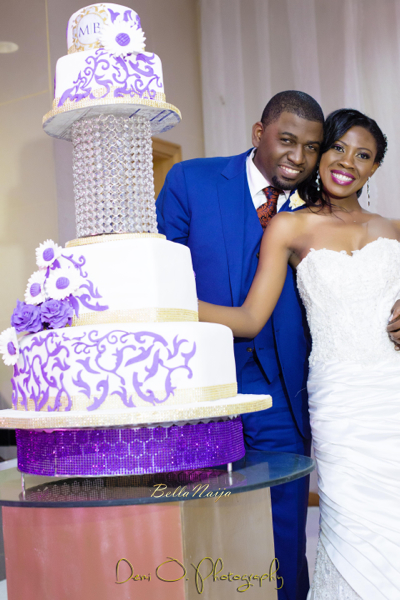 We're going to leave it to the lovebirds – Enjoy & be inspired!
***
~ Pre-Wedding Shoot: Wale Ariztos
It began as a distant admiration over a decade ago. We each had seen the other around in various settings since college. We shared some mutual friends and often saw one another at events in the DMV (DC, Maryland, Virginia) area, but we never really spoke, nor did either of us know we each admired the other.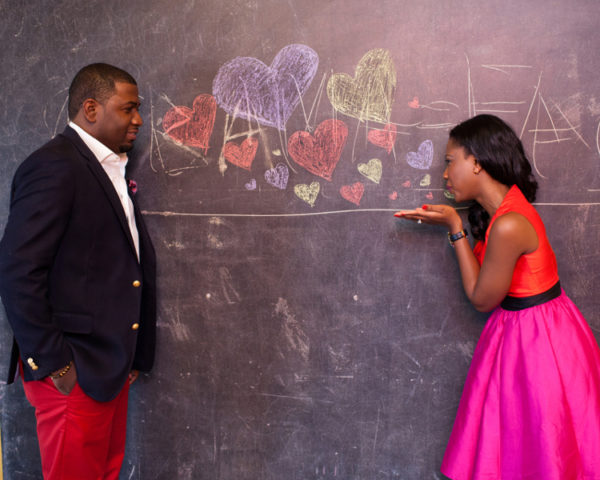 The Friendship
At a friend's party some years later, we finally spoke. We got along quite well but at the time, we were each involved in relationships with other people, so we were just friends. Over the years, our friendship grew stronger and we became good confidants.
Our Courtship
We were friends for four years before we began dating. Our friendship made the courtship period easier for us as we knew each other quite well by the time we began dating. Nonetheless, no matter how close you are with a friend, you definitely learn a lot more about him/her once you begin dating. We had a good time dating and after about a year of dating, we both knew we were in it for the long haul.
The Proposal
Bisi's Version
The proposal took place in October 2012. Mary is very inquisitive and that made it quite difficult to plan a surprise proposal. I wanted her to be more surprised than anything else by the proposal, so I decided to do it on a day when she would be least suspecting. Mary's job is very hectic during certain periods. During one of such periods, she had gone to her office on a Saturday. I called her while she was at work and requested that she stop by my house after work to help with a project I was working on. When she arrived at my place looking tired and completely unsuspecting, I opened the door on one knee… and the rest…. well, you know what they say.
Mary's Version
I know Bisi pretty well (or so I thought at least). So I was pretty sure I would know when he would propose. I wanted a "surprise" proposal but I did not want to be caught completely off guard. So I tried to be very observant of Bisi's behavior around the time when I thought the proposal would happen. Men, was I wrong! Lol, there were a couple of occasions when I was SO sure he would propose. I would have my nails perfectly done, my hair would be on point, etc… and then nothing would happen. Lol. I finally got tired of guessing and gave up, thinking he probably wouldn't propose until around the holidays which was still a couple months away at the time.
Then one Saturday, I had gone to work and was so tired after work, all I wanted to do was go home, get under the covers and watch some chick flicks but No, my babe wasn't having any of that. He insisted that I come to his house after work to assist with a project he'd been working on. I went over half-heartedly and as soon as he opened his front door, he was on his knees with a gorgeous ring. I did not have on a gorgeous outfit, my hair was not at its best, my nails were in OK shape but in that moment, I really did not care what I looked like.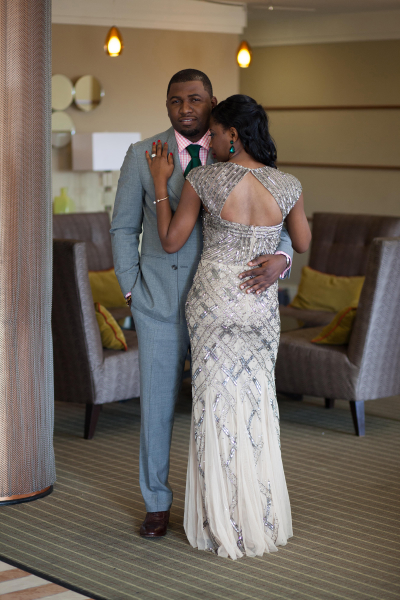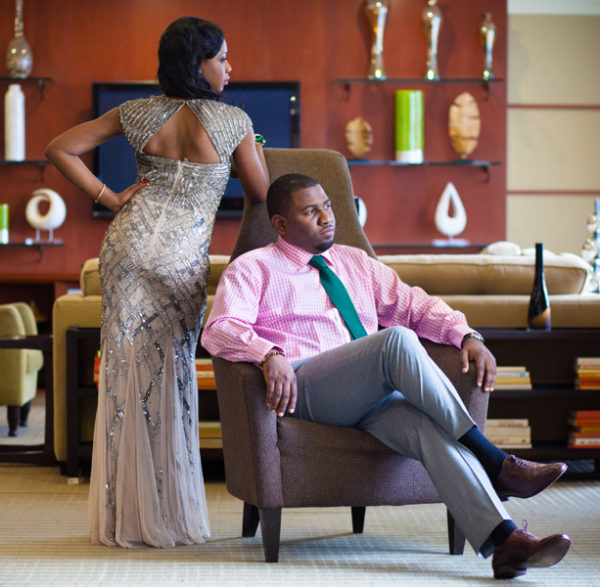 The Wedding Planning
Let's just say the wedding planning process was an experience!
Our first dilemma was deciding where to have the wedding. We both have close family members spread across several countries and we wanted to be mindful of the amount of travelling we would be putting our families through. Initially, we decided to split up the wedding events between Nigeria and the United States. But after the first couple months of planning, we quickly realized that it was going to be a hassle splitting up the wedding events between two countries. We talked through it and ultimately decided to have both wedding events in Nigeria even though neither of us lived in Nigeria at the time. We were glad not to have to plan wedding events in two separate countries but planning a wedding in Nigeria from thousands of miles away proved to be a bit of a challenge. Lets just say we gave Rebtel a lot of business in 2013 and we racked up quite some airline points travelling to Lagos for planning purposes.
Our wedding planner, Ngozi Akintujoye of Perfect Coordinators was pretty helpful and communicated with us often which helped things. Our biggest challenges with planning the wedding from such a long distance were:
Vendors often tried to take advantage of us once they realized that we didn't live in Lagos and didn't fully understand the process there. We quickly realized this and resorted to negotiating with vendors through our wedding planner and close family members.
The disregard for timeliness and Lagos traffic (when we were in Lagos for planning purposes) almost drove us bunkers! And we quickly found out there was nothing we could do about that :).
Despite all the stress of wedding planning, our wedding day was absolutely wonderful! Definitely the best day of our lives! Of course there were a couple things that didn't go as planned, but at that point, we were determined not to let anything diminish our joy after all the time and effort we had put into planning our wedding. We arrived at our church ceremony ahead of time (our guests and vendors were quite surprised by our on-time arrival as they were accustomed to couples arriving late to their ceremonies). It was the most important day of our lives and we were not going to start it off by being late. We had an amazinggg time at our wedding reception. Thanks to our wedding photographer, Demi Olubanwo (Demi O. Photography) and his assistants for capturing so many wonderful moments
At the end of the day, the wedding day is just "one day" (okay, maybe a few days if you count the traditional wedding and other events leading up to the formal wedding), but the most important aspect is the "marriage" which lasts forever, and we tried not to lose sight of that throughout the wedding planning process.
We thank God for how far he has brought us and we constantly pray that above all, we will continue to remain each other's best friend.
BellaNaija Weddings wishes Mary & Bisi a beautiful and blessed married life.
~ Wedding Photography: Demi O Photography
~ Traditional Engagement
***
Photography
Traditional & White Wedding: Demi O. Photography | www.demiophotography.com | instagram.com/thatdudedemi
Pre-Wedding Shoot: Wale Ariztos | instagram.com/waleariztos | www.waleariztos.com
Wedding Venue: Civic Centre
Wedding Attire
Bride's wedding dresses: Badgley Mischka | Matthew Christopher
Bridesmaids dresses: GLAMMfashion (Bride's fashion line) & Rose Blossom
Groom & Best man's Suits: Suit Supply (Bespoke)
Aso-oke: De Root of Aso-oke
Bride's Engagement 2nd outfit: Lanre DaSilva Ajayi
Vendors
Event Planning & Coordination: Perfect Coordinators (Ngozi Akintujuoye & Omorinsola Arodundade)
Décor: D'Posh Events by Banke Oluwajana
Catering: Kemabom | Onion
Wedding Cake: Celebration Cakes
DJ: DJ ZIMO
MC: Comedian Saco