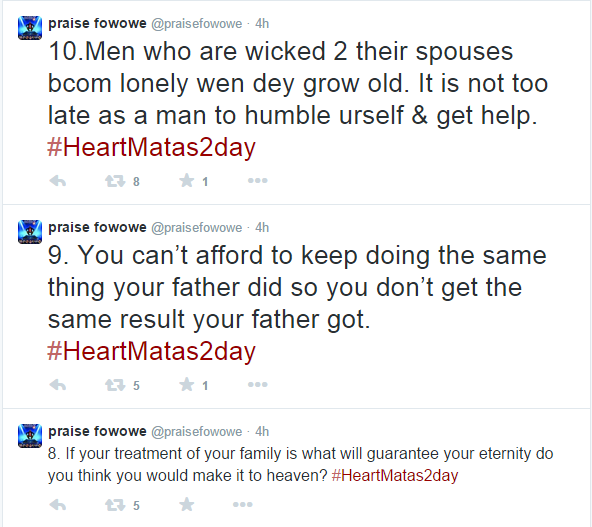 Talk show host Praise Fowowe is again touching on the matters of the heart.
Last week the author and relationship/sexual educator shared 10 tips for women in a 21st century marriage (click here if you missed it) and this week he is taking on the male side of any relationship.
He shares 10 questions and tips every man in a relationship has to be conscious of to sustain a healthy loving relationship. He shared these 10 tips on his Twitter account.
Read through and let us know if you have more to add!
1.Do you pay attention to what your wife wears and can perceive when she needs to change her wardrobe? #HeartMatas2day

— praise fowowe (@praisefowowe) October 22, 2014
2. Can you hear the unspoken noise of her silence or the stress in her diligence or quest to please you? #HeartMatas2day

— praise fowowe (@praisefowowe) October 22, 2014
3. A true man cultivates and nurtures his wife while he ultimately sets her free. #HeartMatas2day

— praise fowowe (@praisefowowe) October 22, 2014
4. Anyone that gives a woman the wings to fly is the person she is naturally drawn to. #HeartMatas2day

— praise fowowe (@praisefowowe) October 22, 2014
5. Can you dare give wings to the bird in your wife to fly or can you give expression to the dream in her heart? #HeartMatas2day

— praise fowowe (@praisefowowe) October 22, 2014
6.Leadership at home is influence; it has got nothing to do with noise making. #HeartMatas2day

— praise fowowe (@praisefowowe) October 22, 2014
7. If ur family was asked to vote for the man of the year do u think u would have their votes and why wuld they vote for u? #HeartMatas2day

— praise fowowe (@praisefowowe) October 22, 2014
8. If your treatment of your family is what will guarantee your eternity do you think you would make it to heaven? #HeartMatas2day

— praise fowowe (@praisefowowe) October 22, 2014
9. You can't afford to keep doing the same thing your father did so you don't get the same result your father got. #HeartMatas2day

— praise fowowe (@praisefowowe) October 22, 2014
10.Men who are wicked 2 their spouses bcom lonely wen dey grow old. It is not too late as a man to humble urself & get help. #HeartMatas2day

— praise fowowe (@praisefowowe) October 22, 2014
Credit: Twitter | Praise Fowowe