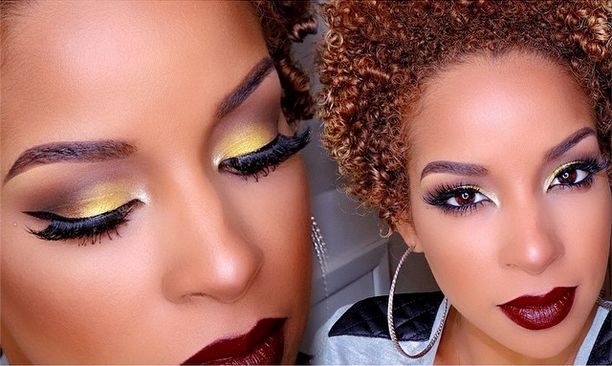 It's that time of the year again – events here, there and everywhere with barely anytime to change clothes, not to mention makeup.
While it would be great if we could trudge along to all the events with a bare face (which is the easiest look of all), we know we can't because we need to have our best face forward for all them paparazzi.
Welcome, the matte smokey eyes. It looks great for all types of events and can be paired with nude lips or loud lips. Great for the season if you ask me.
This is now literally my go-to look with a quick lip change for any night out.
Here are a few tips to hep you achieve the perfect smokey eye.
1. Use a base
As much as I love the Bobbi Brown matte eyeshadows in Charcoal and Chocolate because of its packed pigments, I still prefer to apply them on a good crème base first. This helps me use less product with more impact. Shimmer free, flesh toned crème bases are best for this look.
I recommend MAC Painterly Paintpot
2. Get your brushes right
The right brushes are key for this look. One size doesn't fit all. Keep your eyes on the prize and practice division of labour instead of thinking about which brushes have multiple uses.
I recommend Sephora + Pantene Universe Eyeshadow Brush Set
3. Start Small
Don't pack it all at once. Use a small eyeshadow brush to apply the matte colour close to the lash line.
4. Build
Continue applying the colour until the entire lid is covered fully and evenly. Build it up to the crease of the eye.
5. Blend
Using a flat eyeshadow brush with a fluffy edge, blend the colour well on the lids. Switching to a crease brush, tap the tips with a neutral matte eyeshadow and blend out the edges of the dark eyeshadow well.
I recommend MAC Samoa Silk eyeshadow
*repeat steps 1 – 5 on lower lashline using the small eyeshdow brush only
6. Close up
Using a kohl pencil, line your waterline and lashline ensuring that all flesh gaps are covered.
I recommend L'oreal  Midnight Black eye pencil
7. Lash it
Adding a volume mascara is perfect for this look so make sure you don't scrimp on it. Apply 2 coats to both upper and lower lashes for maximum flutter.
I recommend Maybelline Colossal Volum Express Mascara
Just so you know how easy this look is, watch beauty vlogger Beauty By Lee achieve a gorgeous "End of Summer Smokey Eye" makeup look in the video below.

Photo credit: @BeautyByLee (Instagram)