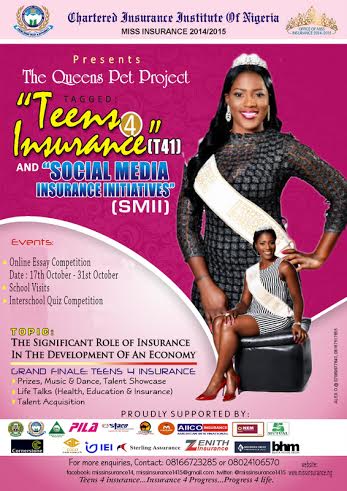 The office of Miss Insurance 2014/15 has officially kicked off her "Teens For Insurance" pet project with the announcement of the online essay competition titled "The Significant role of Insurance to the development of an Economy".
This project was developed to sensitize the younger generation on the needs and benefits of insurance, with the aim of preparing them for the imminent eventualities of life.
Speaking on the motive behind this laudable initiative, the reigning queen, Funmilola Ogunshola, said the project was born out of a desire to initiate early knowledge and experience on the practice and benefits of insurance to youths in Nigeria. "I have noticed that majority of the insurance players in the industry are only focusing on the older generation, but the truth is we need to start creating more polices that focus on the younger generation, so as to catch them young and carry them along in the insurance awareness campaign. That exactly is what this project is centered upon", she said.
As part of the "Teens For Insurance" project, her office will also be organizing school visits and inter-school quiz competitions targeted at creating awareness of the benefits of Insurance to our society.
Funmilola urges all teenagers and youths between the ages of 13- 22 years to be a part of the online essay competition with fantastic prizes to be won, as entries close 12 mid-night on Friday 31st October 2014.
Project partners include NAICOM, Chattered Insurance Institute of Nigeria (CIIN), Nigerian Insurers Association (NIA), Staco Insurance, Leadway Assurance Plc, Mansard Insurance, AIICO, Sterling Assurance, Zenith Insurance, NEM, Mutual Benefits and Sovereign Trust.
To register for the essay competition, click here: www.missinsurance.ng
_____________________________________________________________
Sponsored Content