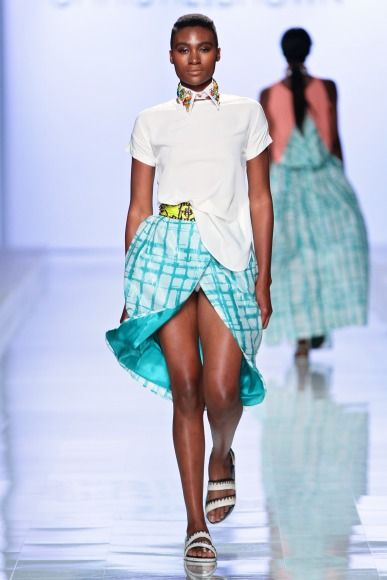 Ghanaian designer Aisha Ayensu of Christie Brown finished her showcase a few minutes ago and we super excited to share her collection with you.
Showcasing her Spring/Summer 2015 collection at Mercedes-Benz Fashion Week Africa 2014, the designer took on a 1950 revival theme with full skirts, cut apron tops, cut outs, frilly tops, bejeweled peter pan necklines and skirts all in gentle peach, lime green, off white & black & white.
We love how individual the pieces look and they can transcend from a fierce outfit, to something more subtle by stripping some pieces away. Christie Brown is yet to disappoint and we must say this is one of our favorites from this fashion week. And we love the fact that the models were rocking flats.
See the full collection below;
Photo Credit: Simon Deiner/SDR