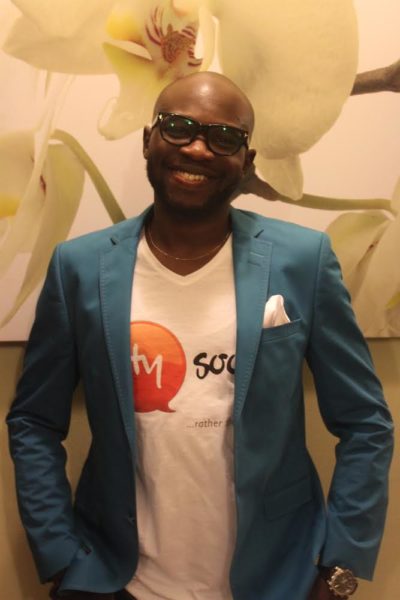 Move Back to Nigeria is a series on BellaNaija which aims to encourage young and not-so-young professionals in the diaspora who are trying to make the decision of whether to move back to Nigeria. In collaboration with the brilliant team at MoveBackToNigeria.com, we hope to bring you a weekly interview with individuals who have successfully made the leap, considering the leap, as well as those who have tried it and realized it is not for them. MoveBacktoNigeria.com's mission is to showcase stories of Nigerians abroad who have moved back home and are taking giant strides, often against all odds and to serve as inspiration to others.This, however, does not preclude us from sharing stories of the people who have moved back and are facing various challenges.
We were excited to catch up with Osato Aghatise this week. He moved back to Nigeria in August 2014, having spent half a dozen years abroad studying and working. In Nigeria, he is tackling what is arguably one of the fastest growing sectors; Ecommerce, from a truly innovative perspective. Read on to find out what he is up to these days, what his thoughts are on the future of Ecommerce industry in Nigeria, as well as other interesting facts you certainly do not want to miss.
Can you please introduce yourself and tell us who you are?
My name is Osato Aghatise, I am the Co-Founder and CEO of ttysoon.com, Nigeria's first online personalised greeting card store. Founded in 2012, the site was launched in January 2014.
Please walk us through your educational background
I was born in Ughelli in Delta State, and went to primary school out there at a school called Noble Crest. After that my dad got transferred to Lagos and I moved to Lagos, around the age of 7 to round up my primary education at Bellina Primary School in Akoka. I began secondary school in Warri; Federal Government College Warri, however I wasn't there for too long and transferred over to Federal Government College Ijanikin for a couple of years and finally did my SSCE and graduated from ADRAO International School Victoria Island Lagos in 2001.
Sometimes you hear people describe FGC Ijanikin as one of the toughest schools in Nigeria…
I was in the boarding house and it was absolutely fun. Exclude the bullying episodes where senior students 'obtain you' (take your money) and the rest of it was a great educational experience. I met a lot of my good friends today at the school and we had an absolutely great time and I do not regret going there at all. The school had kids from a wide variety of backgrounds; kids from wealthy homes and kids from more humble beginnings interacting in the same school. The environment was a leveller and gave me the personality to adapt to wherever I find myself.
Thanks. Where did you go to University?
I attended the University of Lagos,  studied Psychology, and graduated in 2006. Coming out of high school, I had a lot of ideas and suggestions on what  to study, but wasn't sure what it was going to be. I thought about studying Accounting, Economics, and Business Administration etc and simply went in with an open mind with an intention of developing myself in whatever field I got offered. Going in to study Psychology was one of the best decisions I made. In addition to the fact that I met my wife on the course, it also helped with concepts like emotional intelligence, understanding personality types and lots of other concepts. From a business perspective, it taught me how to better understand my customers and have meaningful interactions with them. Shortly after graduating from Unilag, I was posted to Yobe state for NYSC.
How was life at Unilag? And is it true what we see in Nollywood movies where 'older citizens' pick up students from Moremi Hall?
Life at Unilag was great. I was fortunate that when I got into Unilag in 2002, things were a lot better than had been previously. For example, the cultism issue was not as rampant as what I had heard.  I never got harassed by anyone. Some people actually described Unilag as an 'ajebutter' University. And to answer your question about Moremi Hall, yes that happened, it probably still happens, these things happen everywhere not just at Unilag.
What was the NYSC experience like for you in Yobe state?
I remember when I got my posting letter to Yobe state; I actually had to check the map of Nigeria to figure out precisely the camp was located because it was one of those places where one just hadn't heard much about back then. The NYSC registration process was ok in terms of getting the call up letter, however getting to the camp was just a nightmare. The camp was in a town called "Fika" in Yobe state. There were people who were posted there and on getting to the camp, threw in the towel, and got on the next flight out, deciding they would serve in a future batch at a hopefully more conducive location. For me, on the first night I didn't get an assigned bed so I had to sleep under a tree outside (laughs). But it was all fun at the end of the day. After the first few hard days, the remaining part of the camp was actually not too bad. One key benefit of the NYSC in my view is from the perspective of learning other cultures. For example I had to learn to speak hausa in order to get by out there and never would have learnt the language in other circumstances. I also launched a photography business with a friend during my NYSC year, and that helped sustain me during the year.
So what came after your NYSC year?
After that I got a job with an insurance firm as an underwriter, however, after a little while I realised the job wasn't what I wanted to do, so I applied for a Masters Degree, got accepted and moved over to the UK to study Business Analytics and Consulting at Warwick Business School. This was in 2008.
Why did you choose that course and what was life like at Warwick?
From my days at Unilag, I started forming an idea of where I wanted to be and what I wanted to do, so it was a case of getting the skills and experience required to get there. I wanted to run my own business, providing solutions to problems. Warwick stood out for me because it is one of the top business schools in the UK. I found the course more practical than an MBA because it gave me more practical tools and exposure and gave me the opportunity to do an internship as part of the curriculum. Looking at the curriculum of some of the MBA programmes, I was just not excited, something was missing, but Business Analytics and Consulting at Warwick connected with me. Doing the masters programme gave me the knowledge and skills required to work at large organisation, as well the intricacies and competencies required to run a business.
When did you leave Warwick, and what did you do after that?
I left Warwick at the end of 2009, and shortly after that, I got a job with Schlumberger in the UK. While there, I did a few roles. I worked within the IT backbone of the Europe and Mediterranean Regional Support Centre, where we carried out a lot of quality testing, process improvement, and managing IT type projects across the UK and European operations for Schlumberger. About 15 months in at the company, I got expatriated to Cameroun (Jan 2012) to manage IT projects for the company across Sub Saharan Africa. Just after moving to Cameroun, I started thinking about my business ttysoon.com, a personalised greetings card platform/ website. In August 2012, my wife and I came up with the business name, registered it and set the process in motion to build the business. The process was a solid collaboration between me, my wife and various teams across the globe.
Great! Please tell us more about ttySoon.com
ttysoon.com is Nigeria's first online personalised greeting cards store. A ttysoon card is a unique product offering; founded in 2012, ttysoon is borne out of the need to send that extra special message to extra special people. Traditional cards don't typically offer us the ability and convenience to share memories, and express feelings; TTYSOON Cards limited aims to bridge that gap by providing our customers a platform to send bespoke cards with unique messages to their loved ones. As a team, our vision is to eradicate boring old mass produced cards and revamp the greeting cards' world, one bespoke card at a time. Our platform also gives people outside of Nigeria the opportunity to personalise greeting cards and have them delivered to their loved ones in Nigeria, thanks to our PayPal integration. TTYSOON is an acronym that stands for Talk To You Soon
Cool. So out of all the business ideas on the planet, how did you come up with this one?
I once managed a business for my mother, back in 1999/2000. The business included among other things selling greeting cards, and one day a customer came in to buy a card displayed on the shelf, however was not satisfied that any of the cards said precisely what he wanted to say. He knew what he wanted but none of the pre-worded cards conveyed this. At that point it hit me that there was a gap in the greeting cards market, and that was my first exposure to the problem. Over the years, the solution to the problem gradually got more refined, especially when I was in the UK, I came across websites that solved this problem, like moonpig.com. The idea was formed for me and I knew exactly how it was going to be brought to life. ttysoon.com went live in January of 2014.
When did you physically move back to Nigeria?
14th August 2014.
Everyone and their grandma seem to be getting into Ecommerce in Nigeria these days. Don't you think the market is saturated now?
I do not think the market is anywhere close to being saturated. If anything, the market is actually in its infancy. Today the number of people in Nigeria shopping online is more than the total population of South Africa. We have over 60 million people online, actively shopping and engaging with content online (according to a report by Philips Consulting), and South Africa has a population of about 50 million people. The market is huge in Nigeria and is set to grow even further in future, the best is still yet to come and there is a lot of room for a lot more creative eCommerce ideas to come. I would give kudos to the Interswitch group, because without a payment platform, the Ecommerce industry in Nigeria is dead.
Makes sense about the future growth prospects particularly with Nigeria's population of about 170m people. Do you think we have the infrastructure to support this expected growth?
There are a few companies today working on the infrastructure. Today the telecoms industry has helped out a lot with simple things like having mobile data on your phone. This has improved the number of people we have online, however we still have gaps within the infrastructure space aiding Ecommerce; but as demand grows, the gaps will be bridged. A lot of ISP's have a long way to go but are headed in the right direction. With security improving, more entrepreneurs thinking of more solutions and value added services then gradually we will start to experience the growth of ISPs going into more states in the country, and by so doing, the 60m online shoppers in Nigeria can more than double.
And what are your plans to capture this growth in market size?
We are at the very early stages and what we are doing is improving our value proposition to customers and tapping into the population pool where we are today, which is Lagos. We will continue to expand our capacity to serve our customers within Lagos and then after that expand across other states in Nigeria and then subsequently across Africa.
You were away for 6 years; did moving back present any cultural changes for you?
Fortunately for me, all through my time outside Nigeria, I always kept my ties with Nigeria – came for Christmas, came for weddings, came on holidays etc so there wasn't any real shock moving back, however the traffic is one I've had to get used to. Power has also been an issue, however lately there has been a steady improvement in Power Supply, which a lot of people have corroborated both in Lagos and outside Lagos. And with the privatisation in the industry, we believe things will become even better in the years to come.
Thanks and finally what will you say to Nigerians abroad thinking about moving home?
I would say if you believe you can make it in Nigeria you are right, if you believe you cannot make it in Nigeria you are also right. It's about what you believe at the end of the day. I would say to people only move back based on your own convictions. Don't move back because person A moved back and hit it big time. Do it based on your own conviction within your mind and spirit and with a plan to come back to do something specific. Moving back for moving back sake can be very dis-heartening.