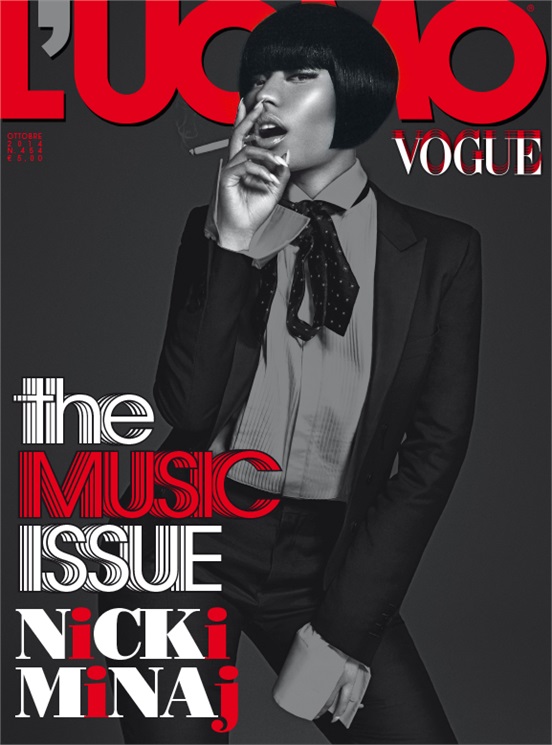 Nicki Minaj is something of an enigma.
Each interview we read, each red carpet appearance, each album, we see a different side.
Not only is the rapper styled differently for her L'Uomo Vogue October 2014 feature, but she is also sharing a different side of her persona including her history, goals and aspirations.
You can read the full interview and see all the photos via the L'Uomo Vogue website.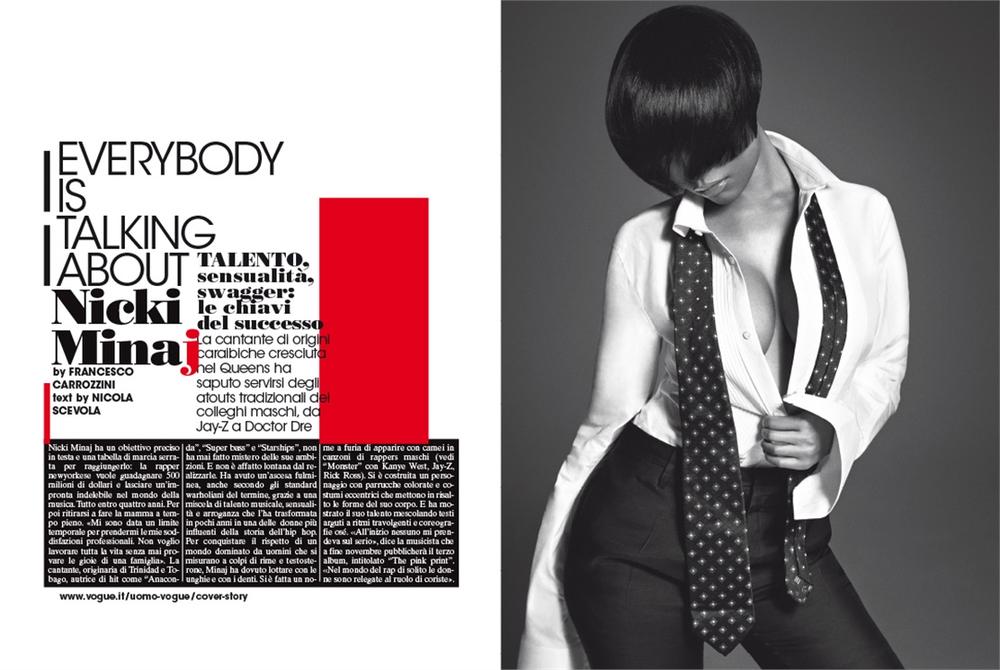 Excerpts
Her $500 Million Goal
The New York rapper wants to earn five hundred million dollars and leave a permanent mark on the world of music. All within four years. After which, she will retreat and become a full-time mother. "I gave myself a time limit to reach my professional goals", says the 32 year-old singer on the telephone from her home in Los Angeles. "I don't want to work my whole life without ever experiencing the joys of a family".
How She Manages her Brand
Minaj personally manages all of her business affairs, and since day one she has always aimed at transforming her name into a brand. "I want to build my empire. In my field, I have always seen men do it – from Diddy to Dr. Dre to Jay-Z. Now it's a woman's turn".
Her Images vs. Family Dream
In order to earn her success, she has created the image of a volatile and man-eating woman, who places her career above all else. It is therefore surprising to hear her dreaming about a traditional family with "an upright man, who will take care of me. The time is not yet ripe, but when I decide to get married and become a mother", she adds, speaking of her future soul mate, "I would like to take a hiatus and dedicate myself completely to my child".
Her Painful Past
A few years after her birth, Minaj was left in the custody of her grandmother on the island of Trinidad while her parents emigrated to the United States in search of fortune. In the beginning, Minaj believed the separation would only last a few weeks, the time it would take to find a work and an apartment in New York. But two years passed before her mother came back to get her. In that period, the future rapper forged a profound relationship with her grandmother and with her entire extended family, who all took care of her and her brother. When her mother finally returned to the Caribbean island to take her back to the Big Apple, Minaj expected to fly to a land of fairy tales. But rather, she was catapulted into a nightmare. When they landed in New York, it was winter – unbearably cold, especially for someone who has never left the Caribbean. Her home in Queens, not far from JFK airport, was small and squallid; her father had fallen victim to crack fever – having become violent, unstable and unable to hold a job, he resorted to stealing from the household to support his toxic habits.
Very interesting! Inspiring?