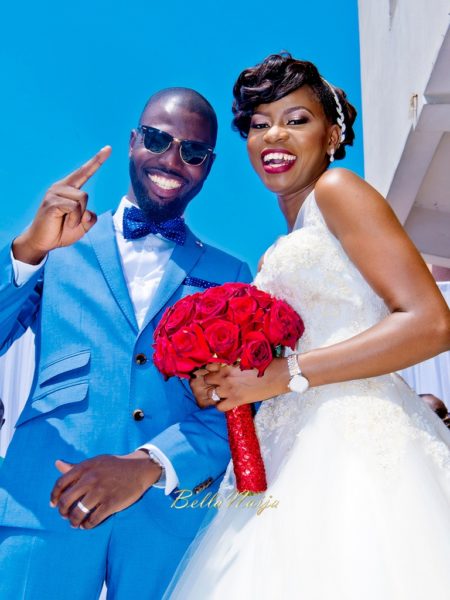 A Nigerian & Ghanaian love story! Sophia & Joseph met while he was on her dentist's chair, she was in her last year of dentistry school and he was a patient.
Read their love story and see their wedding photos captured by Photonimi!
How We Met
It was September of 2010, I was in my final year of dental school and was having a difficult time with a procedure. I sought out my supervisor for help and after he had explained the procedure I did the sign of the cross but unknown to me he had a patient in his dental chair who had just turned around in time to see my hand motions.
As if being in a dentist's chair wasn't hard enough I had even made it worse for his patient, I gave him a broad smile (which I now know is what attracted him to me) and scurried off. All the while thinking "he isn't bad looking at all", I remember making myself available for his subsequent visits but he never asked me for my number. We chatted a bit during his visits and it turns out his sister was a classmate of mine but in the medical field. I get a call one day and it was him, apparently he was able to convince his sister for my number. We got talking and here we are!
The proposal was short and to the point! The bride says, "One evening he comes to visit and we get talking, then he looks at me with such certainty and says "I'm going to marry you". Although it wasn't a question I still gave an answer."
Advice for Other Couples
Pre marriage counseling is very important, stick to your intended budget, the only person that needs to be satisfied with the planning process is yourself and your spouse.
No one else matters.
BellaNaija Weddings wishes Sophia & Joseph a happy and fruitful married life!
***
***
Photography: Photonimi | email: photo (at) photonimi.com | instagram.com/photonimi | facebook.com/photonimi
Wedding Date: 12th July 2014
Venues
Church: RCCG Redemption Pavilion Parish, Victoria Island, Lagos
Reception: The Incubator
Wedding Attire
Wedding Dress: Justin Alexander
Reception Dress: Christie Brown Ghana
Make up & Hair: Shomya | @shomya_lag
Bridesmaids Dresses: by the Bride
Vendors
Wedding Planner, Decor & Bouquet: Duntan West | @Wonderworks_Ng
Cake: Cake Factory by K's Craft | @Cakesiena
Caterer: Appetisers Services (Mrs Funto Oluyori)
Wedding Stationary: Michaels