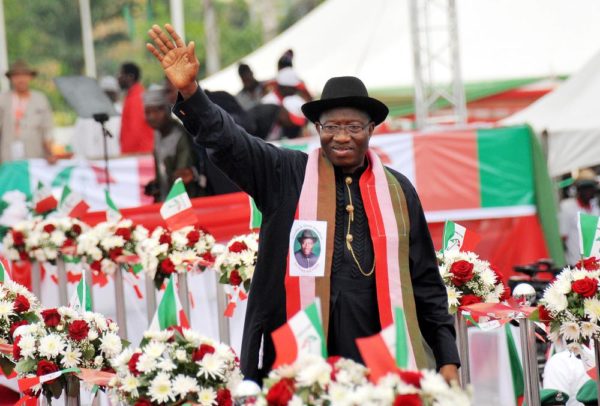 A cross section of Nigerians in the UK on Tuesday expressed support for President Goodluck Jonathan's re-election bid.
The Europe Correspondent of the News Agency of Nigeria(NAN) reports that the supporters, drawn from all walks of life, gathered at the Boat House in East London in a show of support.
While taking turns to speak on the  2015 election, they described Jonathan as " a divine project" ordained by God.
They also urged Nigerians to return him to office, given his "highly rated score card" in the transformation agenda.
Rex Chosen, President of the Peoples Democratic Party (PDP) UK South-South, told the gathering that Jonathan had done well in his first term and should be given the opportunity to continue.
"President Jonathan is a divine project and the hand of God is upon him.
"God calls men in diverse ways and he has called Jonathan with a vision of a transformation agenda for Nigeria.
"He has continued to transform the nation and there are measurable achievements we can see such as rail transportation, freedom of speech and youth empowerment, " Chosen said.
Also speaking to NAN, Austin Okotie, a member of the Nigerians in Diaspora Organisation (NIDO), said that Jonathan was the first PhD holder to rule the country after years of military rule.
"That is why he is making a difference.
"You can see that he has revitalized railway, agriculture and also privatised the power sector.
"We don't expect him to perform miracles within four years; Nigerians should be patient and follow him so that he can consolidate on what he has started,"Okotie.
"What we need now is continuity; we shouldn't bring someone else who will cancel what Jonathan has put in motion," he said.
According to him, lack of continuity in governance is the bane of corruption in Nigeria, and that has continued to plague the nation.
Similarly, Charles Ine, a Transformation Leader with the World Mission Agency in UK, said: "On the scale of 1 to 100, I will score Jonathan 90 per cent."
"Jonathan has done so well in putting Nigeria back on track to economic growth. Here in the UK people now rate Nigeria very high as an emerging economy. This wasn't the situation before.
"Jonathan's administration has proved that the joy we seek in a developed Nigeria is achievable.
"Even the fact that he gave us a voice in the 2011 elections by insisting that everyone's vote must count is a testament to the fact that he is a true democrat.
"There may be security challenges like the Boko Haram issues but these are not insurmountable," Ine added.
NAN reports that the event was organised by a group of concerned Nigerians, mostly high skilled workers in the UK.