Kourtney Kardashian tries hard to stay out of the limelight but the reality TV actress covers Fit Pregnancy Magazine's December/January 2015 issue and she shows off her baby bump in a white dress.
She talks to the magazine about being pregnant again, her pregnancy cravings, her advice to Kim Kardashian when she was about having North West and much more.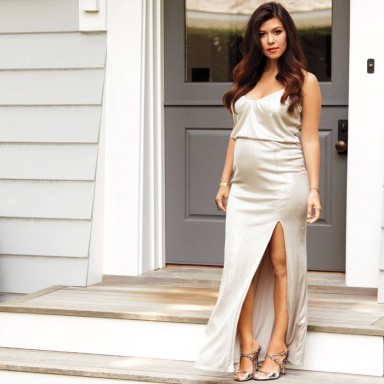 Read excerpts from the interview below!
On being pregnant again: "I love being pregnant in general. This time I'm more tired than I was the other times. I think it's because I'm always running around and working on different things. But I feel comfortable with how I look and feel. I find a pregnant body to be beautiful and an incredible reminder of what a woman's body is made to do."
On her pregnancy cravings: "Being in New York [to film Kourtney and Khloé Take the Hamptons for E! over the summer], I've been craving bagels. I had to have one every day. I don't eat a whole one because New York bagels are so big—I usually eat a half with cream cheese and jelly. I just tried cream cheese and honey on a toasted flagel [flat bagel]—so good."
On her advice to younger sister Kim before having North West: "I gave her the same
advice that my grandmother gave me: Don't worry about having all of the gear and the
perfect room. All that a baby needs, we have to give them."
You can check out her full interview and feature here.
Photo Credit: Fit Pregnancy