Say hello Tamera Mowry-Housley's super adorable natural hair.
On the Daytime Talkshow – The Real – which she co-hosts with celebs Loni Love, Tamar Braxton, Adrienne Bailon and Jeanie Mai, Tamera, who is usually seen rocking a long weave in different styles, decided to do something different for their show which aired yesterday.
She rocked her natural hair and admitted that she used to wear her hair natural when she was younger on her show "Sister, Sister" with her twin Tia, but when she reached adulthood she reached for a straightener. After having some difficulty with her natural hair, she decided to go for the big chop.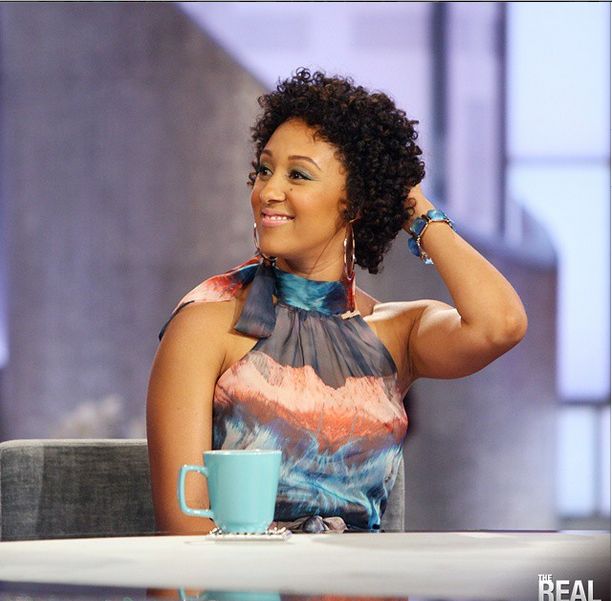 She looks so great and her husband, Adam Housley, thinks so too. She shared how he loves her look saying "My husband loves my hair like this. He would rather me wear my hair curly all day every day than to straighten it. And that makes me feel great".
We are sure every Naturalista can relate to this part. The only downside to her rocking her natural hair, Tamara says is "everybody wants to touch it. They're all up in your face and you're like 'Ooooh, wait, nooooo!'. My husband's friend, sorry Dan, I'm gonna call you out, I went to visit him at work and he saw my hair like this and he literally said, 'Does your hair grow out of your head like that? No, no, no, no, I think it's cool! I've just never seen anything like that.'"
So, what do you think of her look?
Watch!

They also had as a guest UK singer Estelle who talked about her album, and who she'd date in the entertainment industry – Usher was an 'oh yes' and Wiz Khalifah was a 'heck no'!
Photo Credit: @TameraMowryTwo | @TheRealDaytime (Instagram)