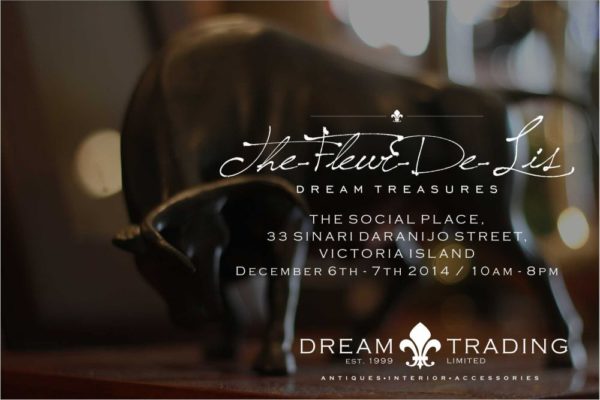 On Saturday 6th and Sunday 7th December 2014, Dream Trading will be hosting "The Fleur-de-lis", an exclusive luxury home accessories event at the Social Place, Sinari Daranijo, Victoria Island. Shopping and networking in one unique event!
Dream Trading is a home, gardens and office accessories store that specializes in unique luxury pieces and antiques.
It is owned and run by annette Ibru, whose trained eye and exquisite taste have taken her all over the world in search of the most distinctive luxury home and office accessories available. Having been in the business for over fifteen years, the Dream Trading brand is synonymous with exotic pieces sourced from Paris to Belgium, London to Milan and beyond – in short, Dream Trading is one of the go to stores for class, variety, quality and uniqueness in office, home and garden accessories.
You may be thinking, "Great, but I can't afford it." Think again!
At Dream Trading, great taste is not defined by high price tags alone. From candlesticks to chandeliers, there's something for every wallet.
Whether you're looking to decorate your dream house, spruce up your office space, looking for a few affordable items to add a touch of class to your humble home, or searching for the perfect gift this holiday season: Dream Trading has you covered. Come, shop and mingle with like-minded people of equally exquisite taste!
Early-bird shoppers will enjoy complimentary tea, coffee, sandwiches, and up to 15 percent off selected items, while the night owls will be treated to great music, free cocktails – and, of course, great conversation. Day or night, "high brow" or humble, there's something for everyone at Dream Trading.
Enjoy two full days of luxury shopping like you've never seen.
Date: Saturday 6th and Sunday 7th December 2014
Venue: The Social Place, 33 Sinari Daranijo, Victoria Island, Lagos
Time: 10AM – 8PM
For more information, please contact Dream Trading Store (Address): 38 Awolowo Road, Ikoyi, Lagos | Call: +234 805 471 2351 or +234 709 800 6223 | Send an e-mail to: [email protected] | Follow on Twitter: @dream_trading | Follow on Instagram: @dream_trading | Visit their website: www.dreamtrading.ng
_______________________________________________
Advertorial – Sponsored Content