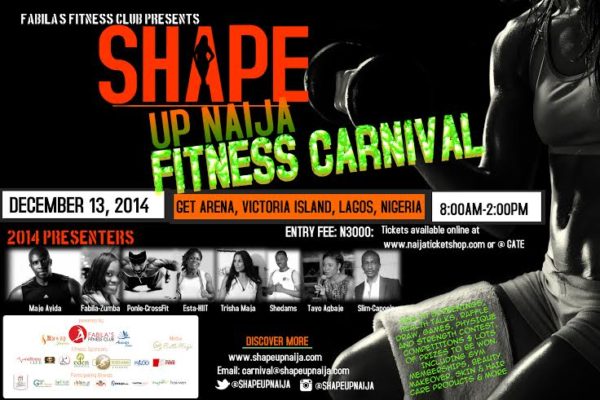 Calling on all fitness fanatics, are you ready? Fabila's Fitness Club presents "Shape Up Naija Fitness Carnival" 2014, an event for everybody – whether you are a fitness pro, fitness fanatic, a newbie, service/product provider, or industry stakeholder, Shape Up Naija Fitness Carnival is an opportunity to train, meet and network with consumers, trainers, gym owners, wellness facility owners, retailers and distributors.
The Carnival features a great line-up of fitness, physique, and strength contests. There will be competitions with lots of prizes to be won including gym memberships, spa packages, hair care products and more.
Lined up for the day includes;
Master Classes with: Fabila – Zumba Fitness, Esta – Triple F HIIT Interval, Ponle – CrossFit, Trisha Maja & the Fuzion Team – Dance Fuzion, Slim – Capoeira.
Fitness Talks from Maje Ayida, Tayo Lekan Agbaje and more, Skin Care by Leslie Okoye of Cookieskin, Scalp Analysis with Daboju Ogboru of Savvy & Chic Hair Beauty hub, health screenings, competitions, raffle draws and more.
Exhibiting on the day include: Green Grill House, Reel Fruits, Happy Healthy Food, Beautifully Nappy, Dr Egypt, Hairven and more.
Shape Up Naija is proudly powered by Fabila's Fitness Club, Main Events, Eden Lifestyle, Avivar Centre, Zesty Juices, Zone Fitness Club, Shedams Fitness Clinic, I AM FADD Fitness Addict, Fuzion Fitness Centre, Body Language Studio, Body by Ponz, and Savvy Chic Hair Beauty Hub.
Join the Carnival Train.
Date: Saturday 13th December 2014
Time: 8AM – 2PM
Venue: GET Arena, Victoria Island, Lagos
Gate Fee: N3000
Tickets available online at www.naijaticketshop.com
Dress Code: Sporty
To discover more about the carnival visit the website: www.shapeupnaija.com | Follow them on Instagram & Twitter: @shapeupnaija | Find them on Facebook: https://www.facebook.com/shapeupnaija | Call them on 07036572883 (Lisa) | Send an e-mail to: [email protected]
_____________________________________________________
Sponsored Content