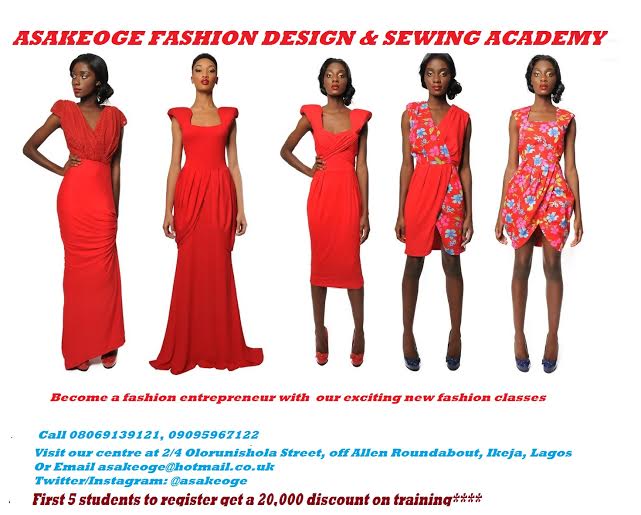 Have a dream in the line of fashion? Well you can realize your dream as you register for the Asake Oge Professional Fashion Training Class.
This great course could get you started  in a fashion career with the award winning fashion brand AsakeOge. You will learn from the designer herself who has 15 years of experience in the industry, on fashion design and garment production as well as get equipped with high level creative, technical and business expertise.
Students will get training equipment and hand outs. Foundation, Intermediate and Advamced classes are available from 1 – 12 months.
The first three people to register will also get a N20,000 gift coupon on the 7-month fashion program. The gift card is only applicable if you pay at least 4 months in advance.
This course starts on Saturday 31st January 2015 for Weekends and on Monday 9th February 2015 for the Weekdays.
Weekdays
Date: Mondays, Wednesdays & Fridays
Time: 9:30 AM – 1PM
Weekends
Date: Saturday
Time: 9:30AM – 2PM
Venue: 2/4 Olorunishola Street, Off Allen Avenue, Ikeja, Lagos
Training includes:
Introduction to fashion design
Professional Sewing Techniques
Home Sewing and simple garment making
Fashion Designing and developing a collection
Fashion Marketing and Merchandising
Fashion Branding and Promotion
Commercial Tailoring
Fabric Sourcing
Customized Pattern Cutting and Fitting
Evening wear
Bridal wear
Entrepreneurship coaching from known industry experts
For more information contact AsakeOge Couture by visiting their website: www.asakeoge.com | Find them on Facebook: www.facebook.com/asakeoge | Follow them on Twitter: @asakeoge | Instagram: @asakeoge | Call 09095967122 or 08069139121
_________________________________________
Sponsored Content