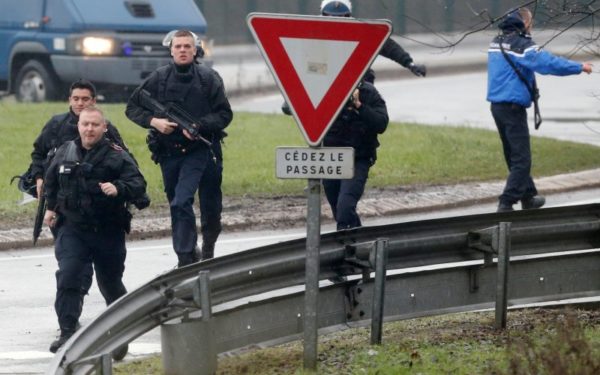 In the aftermath of the Wednesday terror attack on the offices of French satirical magazine, Charlie Hebdo, and the deadly shooting on Thursday, two separate attacks have again occurred in France.
Amedy Coulibaly, 32, is said to be currently holding at least 7 people hostage at a kosher grocery store located near eastern Paris' Porte de Vincennes, Daily Beast reports. It is suspected that he has shot two of the hostages.
In the second case, a standoff involving the two brothers wanted in the Charlie Hebdo massacre (Said and Cherif Kouachi) and law enforcement officers, is currently ongoing at a location about 25 miles northeast of Dammartin-en-Goele town.
Authorities appear to be certain that they have surrounded the Kouachi brothers.
The suspects have reportedly spoken to authorities, stating that they are willing to die as martyrs, CNN reports.
Coulibaly is believed to be a member of the same local terror group as the Kouachi brothers.
Photo Credits: www.thedailybeast.com/Reuters/Christian Hartmann