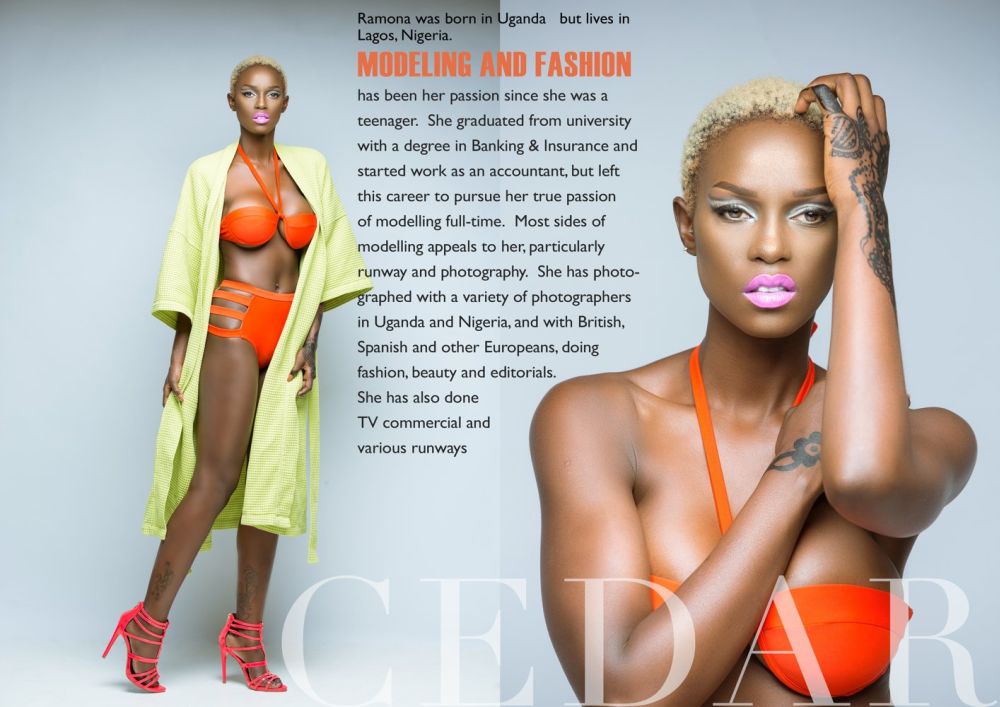 Here's some Saturday hotness for you!
Ugandan model Ramora Fauziah Nanyombi is the cover star for the 1st edition of photographer Emmanuel Oyeleke's new monthly cover feature – Cedar.
The electronic magazine is driven by the passion to showcase the growing talents of individuals growing in what they do and also to showcase his love for photography. The project emphasizes fashion, beauty and lifestyle.
Now, back to Ramona. Here are 5 things we learned about her from the feature;
1. She's a model with Beth Model Management and is originally from Ugandan but lives in Lagos, Nigeria.
2. She loves living in Lagos because of its warm and friendly people, spicy food, and fast-paced lifestyle. She feels there is always something happening. Never a dull moment.
3. She loves modelling and fashion and has been modelling since she was a teenager.
4. She has a university degree in Banking & Industry and started working as an accountant. She later left to pursue her passion of modelling full-time.
5. She has worked with a number of photographers from Nigeria to Spain; and has also appeared in TV commercials and runways.
Watch the Cedar Cover Story Behind-the-Scenes

Find out more: Follow Cedar on Twitter: @cedarzine | Follow them on Instagram: @cesarzine | Visit www.cedarzine.com
Photo Credit
Photography: Emmanuel Oyeleke (@emmanueloyeleke)
Styling: Jane Michel (@janemichaelnig)
Makeup: Leylarh Cadne (@leylarcadne)