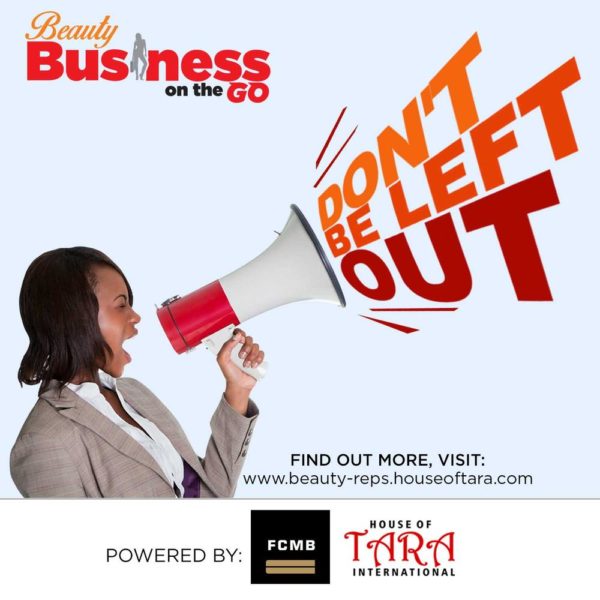 Beauty Business On-the-Go (BBOG) is an initiative by African renowned makeup brand, House of Tara International, in partnership with First City Monument Bank (FCMB). The campaign is aimed at recruiting and empowering 5,000 women to become beauty representatives and as such create job opportunities to further reduce the rate of unemployment in the country.
Reps will be offered financial training, marketing support and other business skills which they will need to grow their start-up business.
Interested participants can sign up to become reps at http://beauty-reps.houseoftara.com/ or can walk into House of Tara outlets to sign up to become beauty reps.
They can also attend a BBOG seminar, which will feature a free training on how to sell make up products. These weekly seminars have already commenced in the following cities – Lagos, Abuja, Port-Harcourt, Benin, Enugu, Ilorin, Ibadan, Kano, and Kaduna.
At the BBOG press conference held at the House of Tara International Headquarters, Tara Fela-Durotoye, CEO and beauty business model developer, explained the financial fulfillment that comes with being a House of Tara Beauty Representative. She was joined by a panel of experts – Ada Iwugo, Commercial Director at House Of Tara, Uche Mojekwu, Head of Communications & CSR at FCMB and two existing beauty reps, Bimbo and Chima.
Speaking about the job creation opportunity, Ada Iwugo, said "This model will potentially create 20,000 jobs across the country in a relatively short space of time."
Want to become a House of Tara beauty rep and enjoy financial independence? Then sign up at their website http://beauty-reps.houseoftara.com/
About House of Tara
Set up in 1998, House of Tara is a pioneer in the beauty and makeup industry in Nigeria and Africa as a whole and a trailblazer in the areas of retail, distribution channel management and education. Known also as an industry enabler, the brand is also recognized as the first to set up a beauty school in Nigeria has over 3,000 reps spread across the country and 20 stores to its name.
__________________________________________________________________________________
Sponsored Content