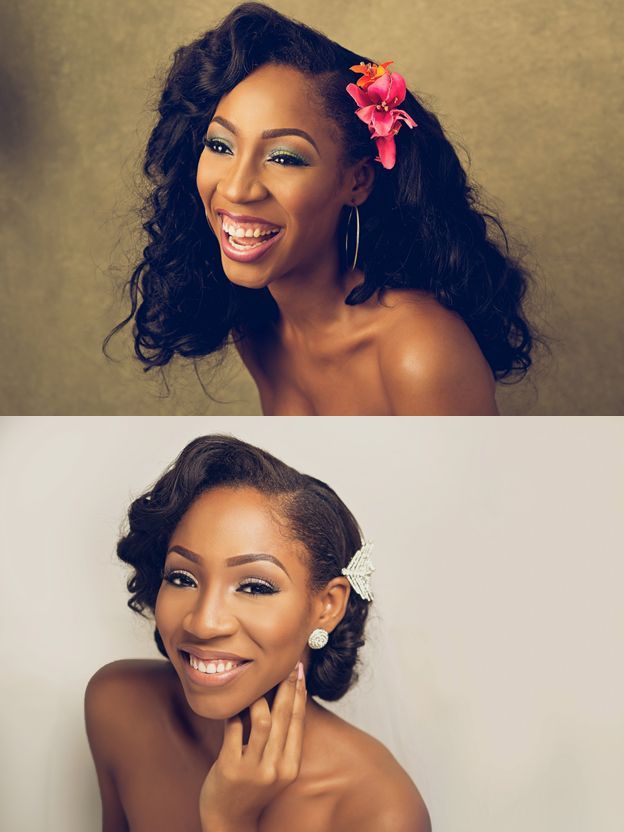 Happy Valentine's Day!!!
In the spirit of the day of love, Nigerian Celebrity Makeup Artist, Theodora Mogo of Doranne Beauty, is here with a beautiful story (literally). In a photo series, she is sharing the 5 stages of love every woman goes through.
From getting a crush on that special someone, to finally getting married; these images with stunning and Valentine's Day-themed makeup tell the story we all want to star in.
According to Theo;
"It is natural to believe that love can be all about roses and daises. More so, it is easier to say that everyday should be Valentine's Day; so what really is the point of February 14th? Why do we dedicate a day a year to prove that we love our loved ones? What then happens to the other days of the year?
The beauty of love is in the journey. And yes there is love at first sight, but love truly grows with time.  Everyday intensifies the degree of the love we share.
You will never understand taking a day out to appreciate your significant other, till you've gone through the 5 stages of love".
Check it out the 5 Stages of Love by Theodora Mogo!
1. Crush/Like
You don't have to be in love to be familiar with this stage. This is the first step to 'catching feelings'. All you're interested in is looking cute, and trying to make a great first impression with this new man in your life. You make sure nails, outfit, hair & makeup are all on 'FLEEK'. You even quickly Facetime your bestie to get her approval; that go-ahead grin is all you need to boost your confidence.
You don't want to go all in with red lips; so you work with the eyes. After all, it's all in the eyes. At this point, you're crushing and so will he!
2. Romance/Passion
It starts to get a little more intense as the feelings grow deeper. You're no longer single; you now have a 'man'. At this point, there's no more trying to look cute, you want to hold your own and let others know there's a new Sheriff in town, and you're in charge!
3. Heartbreak
Many of us are very familiar with this phase. Let's face facts, he will hurt you at some point. Not necessarily because he wants to, but because he is only human.
This is your cue to put the heartbreak songs on repeat, pour yourself a drink, light up a cigarette and call up your bestie (remember, the same one who approved your outfit on the first date). Call it cliché, but you can't even deny ever doing this –  you've either done this or witnessed it, but hunny it is real!
4. Rekindle
Only the lucky ones make it through the heartbreak. At this point you've learnt the art of forgiveness, but it comes at a cost. You get on that "if you want me back, you gotta buckle up" bandwagon.
He's seen all there is to you (well almost all) and vice versa. There's no more fronting, you either want in or out. You make the effort to look hot, but there's no need to go all out. I mean, who are we kidding.
5. Proposal/Marriage
This is the beginning of eternity. You're done fronting and running. He put a ring on it!! What more could a girl ask for? You immediately book your dates with Doranne Beauty. It's about to be the happiest day of your life – You're the bride!
Here is where our love story takes us. Sadly, we don't all get to this stage. Some our loss, some theirs to be honest. This is every girl's dream- The perfect happy ending.
And they lived happily ever after!
Photo Credit
Photography: Obi Somto
Makeup: Theodora Mogo of Doranne Beauty
Hair: Bernard Okon
Model: Chichi MBGN Tourism