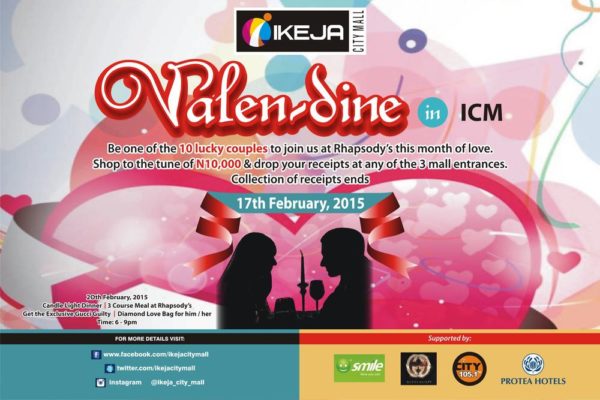 It's the month of love and what better way to celebrate your love than with a romantic dining experience at Ikeja City Mall (ICM)?
You can enjoy the most romantic celebration of the year with your partner as ICM in conjunction with City FM and Gucci as they host 10 couples to an exclusive dinner at Rhapsody's on Friday, 20th February 2015.
Want to know how to be a part of the Valen-dine promo?
From the 1st to 17th of February, shoppers that buy any item worth N10,000 or more from any store in ICM, can drop their single purchase receipts with contact details in the designated boxes at the 3 entrances into the mall.
Listeners at City FM can participate in this promo when they tune in during the "Breakfast In The City" show with Oscar and Dan Foster. Listeners stand the chance to join the other couples when they participate in the Valen-dine and Gucci Guilty campaign competition so be sure to listen in!
What do you win?
Winners can enjoy a romantic dinner as Bee-jay Sax serenades the couples with love tunes to celebrate a special evening.
Oscar from City FM will take charge of the proceedings to ensure there isn't a single dull moment.
The couples win Rhapsody's special three-course Valentine menu and after the dinner, two from the ten couples will be selected to relish a comfortable, fresh accommodation for one special night only at Protea Hotel Ikeja for that deserved rest after a great evening.
You also receive Gucci Valentine gift bags for him and her which include an assortment of scented roses, Gucci purses, Gucci gold mirrors, Gucci premier beauty products and the all new exclusive luxury fragrance; Gucci Guilty Diamond.
In addition, Winners will be parting with the brand new Mifi devices (10 gig free data) from Smile broadband.
This event is supported by Gucci, City FM (Voted best radio station 2014) Protea Hotel Select Ikeja and Smile Broadband.
For more information, visit www.facebook.com/ikejacitymall | www.twitter.com/ikejacitymall | Instagram @ikeja_city_mall or tune in to the breakfast show from 9am on City 1051fm!
_______________________________________________________________________
Sponsored Content